Euro 2020: Who has qualified and who is heading for the play-offs?
Last updated on .From the section European Football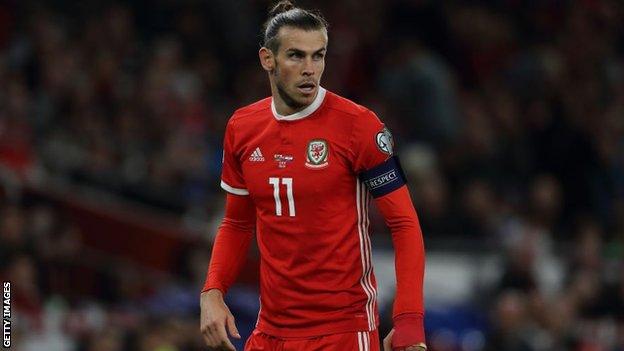 Wales became the 20th and final team to secure automatic qualification for Euro 2020 after beating Hungary in their final qualifier on Tuesday.
Ryan Giggs' side finished second in Group E and join England in guaranteeing their place at next year's tournament.
Scotland, Northern Ireland and the Republic of Ireland will be in the play-offs, which take place in March 2020.
Who else is through and who is heading for the play-offs?
Who has qualified? Austria, Belgium, Croatia, Czech Republic, Denmark, England, Finland, France, Germany, Italy, Netherlands, Poland, Portugal, Russia, Spain, Sweden, Switzerland, Turkey, Ukraine, Wales.
Who will be top seeds? There will be six top seeds for the Euro 2020 draw on 30 November. They are Belgium, England, Italy, Germany, Spain and Ukraine. Defending champions Portugal and World Cup winners France are not a top seed for the tournament.
Who are in the play-offs? Belarus, Bosnia-Herzegovina, Bulgaria, Georgia, Hungary, Iceland, Israel, Kosovo, North Macedonia, Norway, Northern Ireland, Republic of Ireland, Romania, Scotland, Serbia, Slovakia
How do the play-offs work?
The draw for the play-offs will take place on Friday, 22 November with the 16 teams in the draw split into four paths - A, B, C and D.
Each path contains four teams, with their rankings determined by their performance in the Uefa Nations League.
Each path will be divided into two single-leg semi-finals. There the best-ranked team will host the worst-ranked team and the team ranked second will host the team ranked third. The winner of each semi-final will contest a final.
At the draw it will also be determined which semi-final winner plays the final at home. The winners of each of the four play-off finals will join the 20 teams who have qualified automatically.
Based on each team's ranking, this is what we know about the paths so far:
Path A
Iceland v TBC
TBC v TBC
Path B
Bosnia-Herzegovina v Northern Ireland
Slovakia v Republic of Ireland
Path C
Scotland v Bulgaria, Hungary, Israel or Romania
Norway v Serbia
Path D
Georgia v Belarus
North Macedonia v Kosovo
How will the draw for the finals work?
The seedings for Euro 2020 have been determined by a nation's record in qualifying.
Group winners are ranked 1-10, with runners-up 11-20 and the four playoff winners 21-24.
Based on this ranking, teams are placed four pots of six nations:
Pot 1: Belgium, Italy, England, Germany, Spain, Ukraine
Pot 2: France, Poland, Switzerland, Croatia, Netherlands, Russia
Pot 3: Portugal, Turkey, Denmark, Austria, Sweden, Czech Republic
Pot 4: Wales, Finland, Play-off A, Play-off B, Play-off C, Play-off D
One team from each pot would be drawn into the six groups.
What we know about the Euro 2020 groups so far
The host nations (teams in bold) that have qualified, or could yet qualify through the play-offs, are placed automatically into the following groups to ensure they are at home in at least two group games:
Group A: Italy
Group B: Russia, Denmark, Belgium
Group C: Netherlands, Romania*, Ukraine
Group D: England, Scotland*
Group E: Spain, Republic of Ireland*
Group F: Germany, Hungary*
* teams in the play-offs.
The final qualifying group positions