John Delaney: Former chief executive resigns from FAI role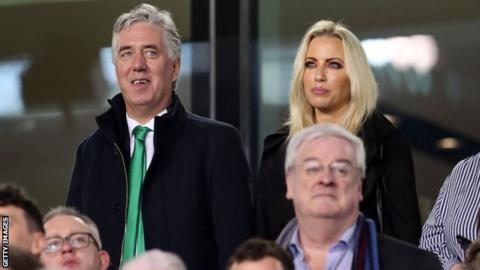 Former Football Association of Ireland chief executive John Delaney has resigned from his post as the body's executive vice-president.
The FAI board announced the 51-year-old's departure on Saturday.
Delaney had been in post as chief executive for 14 years before a restructure was announced in March.
That came in the wake of a review into the FAI's financial dealings after it was revealed Delaney gave the governing body a 100,000 euro loan in 2017.
Delaney said the loan was designed to "aid a very short-term cash flow issue".
The FAI stated the "bridging loan", given in April 2017, was repaid in full to Delaney two months later.
FAI refused to disclose Delaney severance terms
The FAI said in a statement released late on Saturday night that Delaney had resigned "with immediate effect" following talks and that it would fulfil certain notice and pension obligations as agreed between the parties.
The statement added that "both parties have agreed to make no further comment".
Delaney, who had led the association since 2005 and remains a member of the executive committee of European soccer body UEFA, faced heavy criticism from fans, players and politicians for his role in the controversies.
Ireland's state corporate watchdog began legal proceedings against the FAI in May after the association acknowledged it had broken state funding rules and its auditors said the 98-year-old association's accounts were not being properly kept, contravening two sections of Irish company law.
The FAI's state funding was also suspended and audit firm Mazars has been undertaking a separate investigation into it, including into board expenses and payments to third parties.
Delaney agreed in April to voluntarily step aside following the revelations and has effectively been on 'gardening leave' since then.
Reacting to the news, Irish Minister for Sport Shane Ross said that details of any severance package made by the FAI to Mr Delaney must be made public before government funding could be restored to the football governing body.
"It's absurd after all the controversy that we shouldn't know exactly what the pay-off is," Mr Ross told RTE.
Mr Ross added that the first of three reports commissioned into the FAI's financial affairs is expected to be published in about a week.
He said the government would have to study the contents of the reports before considering any restoration of funding, adding that a "very dark shadow still looms" over the FAI.