Joe Jacobson: Wycombe Wanderers left-back officially awarded set-piece hat-trick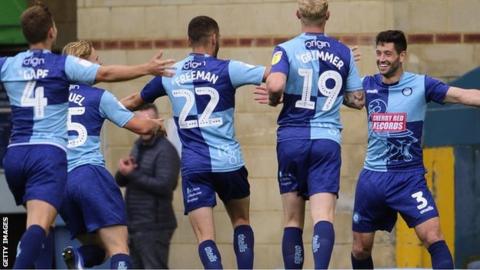 Direct free-kick. Direct from corner. Direct from corner.
That is how Wycombe Wanderers left-back Joe Jacobson scored what must go down as one of football's most unusual hat-tricks, in their League One win over Lincoln on Saturday.
But in an added twist the Welshman, 32, had to wait the best part of 48 hours for his set-piece treble to be confirmed by the Dubious Goals Panel.
Here is how Jacobson's memorable afternoon played out...
Goal one: Free-kick from 20 yards whipped over the Lincoln wall and into the bottom corner.
Goal two: Low, inswinging corner that went in via Lincoln defender Michael Bostwick on the line - initially given as an own goal but eventually awarded to Jacobson on Monday.
Goal three: A floated corner that sailed over the head of keeper Josh Vickers, dropping inside the far post.
"I don't get many goals at all so for me to have an opportunity to take that match ball home, I grabbed it and took it home, that's for sure," said Jacobson, despite not being sure at the time if he would be credited with the second goal.
If you thought his exploits were pot luck, or perhaps wind-assisted, think again - the defender also scored twice direct from corners last season.
"I was practising in training all week and I was terrible, I couldn't get near it, I was horrific," he told BBC Radio 5 Live's Football Daily podcast.
"I'm not sure the other boys are too happy because they're kind of just running in the box for no reason if I'm shooting at goal."
If it is helping to earn the squad a healthy win bonus, Joe, I am sure they won't mind too much...