Marcus Rashford: Racism 'spike' is unbelievable - Man Utd & England striker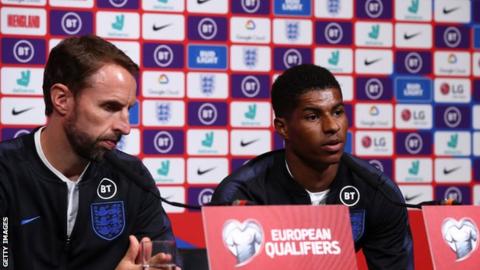 England and Manchester United striker Marcus Rashford fears football is "going backwards rather than forwards" in the fight against racism.
Rashford was racially abused on social media after missing a penalty in the defeat by Crystal Palace in August.
There have been similar incidents involving Paul Pogba and Tammy Abraham, while Romelu Lukaku was recently subjected to racist chanting.
"To see it spike in the last couple of months is unbelievable," said Rashford.
"I have always said, the more we speak about it, it doesn't have an impact - there are examples where people have spoken out and nothing has really changed.
"We want to nip it in the bud."
Social media platform Twitter says it has "taken action" on "more than 700 examples of hateful conduct" in the past two weeks.
Twitter said it had also met "directly affected" clubs, the Professional Footballers' Association and Kick it Out in an attempt to "tackle the issue collectively".
However, Rashford believes more needs to be done.
"For me, it's too easy to do whatever you like on the internet," he added.
"Any of us now could go on and create accounts and write what we want under anybody's posts and nobody would ever know.
"It's easy to figure it out and if you have to show identification to create an account that means everybody can only have one account.
"For me, there's hundreds of thousands of people that use my name on social media and they can write what they like."
'I'm fed up of racism' - Duke of Cambridge
The Duke of Cambridge, president of the Football Association, highlighted the importance of tackling racism and improving mental health in football during a visit to a north London football club.
He made the comments as he met with staff, coaches and fans at Hendon FC on Friday to learn about their mental health outreach activities.
During a conversation with coaches he highlighted how abuse might be a difficult issue for players to discuss and that racism needed to be tackled.
He said: "People are now talking a little bit about mental health issues but I imagine talking about racism is still quite a difficult subject, especially when it's happening in such a public fashion with Premier League matches or Champions League."
The duke added: "We've got to do something about it. I'm fed up with it. I'm so bored of it."
Despite saying the issue "kind of felt like it was getting under control here, it got better", the duke admitted recent incidents of abuse made it feel like "we're back there".