Clyde boss Danny Lennon, 50, helps beat Celtic colts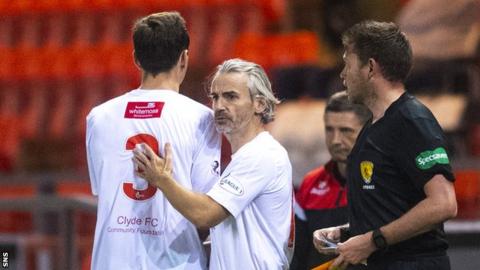 Clyde manager Danny Lennon says he will "negotiate a contract in the mirror with himself" after making a cameo appearance in his side's win over a Celtic colts team on Tuesday.
The 50-year-old, who retired 11 years ago, brought himself on during the second-half at Broadwood as his side earned a 3-1 Glasgow Cup victory.
Lennon says his involvement was forced because of injuries.
"I still have the physicality and the health to grace the pitch," he said.
"I felt that I handled it no problem. I look after myself. I'm in the gym everyday - sometimes twice - and I think it's just a bit of mind over matter.
"I'd do it again if called upon but I'm hoping not as that would tell me I'm getting a good squad of healthy players back. I'm actually going to go and look and negotiate a contract in the mirror with myself."
Word of Lennon's involvement against a Celtic side including the likes of summer signing Luca Connell, Armstrong Okoflex and Jack Aitchison spread quickly.
Supporter Ross Madden wrote on Twitter: "Canny believe av just seen Danny Lennon make his debut for Clyde at 50 years old."