Bury v MK Dons called off by EFL but Wycombe v Bolton to go ahead
Last updated on .From the section Bury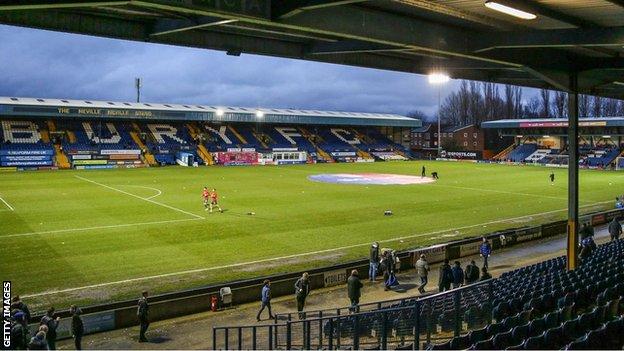 Bury's opening League One game, at home to Milton Keynes Dons on Saturday, has been suspended - but Bolton Wanderers' match at Wycombe can go ahead.
However, the EFL said it had suspended the Bury game "reluctantly".
Bolton's submissions satisfied the EFL that they can meet the requirements of the league, with a takeover expected.
Both teams have already been deducted 12 points from the new League One table and both were given extended deadlines by the EFL to prove they had made sufficient progress behind the scenes.
Bury's second match of the season, at Accrington on 10 August, is also under threat, while it is understood the Gigg Lane outfit will now be referred to an independent disciplinary panel.
"Following continued and comprehensive discussions, the EFL board is not satisfied it has received the necessary evidence in regard to the outstanding information it requires that demonstrates how Bury will be funded moving forwards," an EFL statement read.
"As a result of not meeting Monday's 17:00 deadline, which had been extended on two previous occasions, the board feels it has been placed in an unenviable position and, regrettably, has opted to take the reluctant decision to suspend Saturday's opening day fixture with MK Dons under the provision of EFL regulation 28.2.
"In addition, the EFL board, if not in possession of the necessary evidence by 12:00 on Friday, 2 August, will make a determination as to whether to suspend Bury's away fixture at Accrington Stanley."
MK Dons said they are "hugely disappointed" with the suspension of the match and that the disruption to their planning is "most unwelcome".
"We understand this is both a serious and complex situation, and our overriding concern has to be for everyone at Bury Football Club and their supporters," the club added.
"In the meantime, the club has made representations to the EFL concerning the potential impact on both future fixture congestion and sequencing of away games."
Why is Bury's game off but Bolton's game on?
Bury have not given the EFL details of how they plan to settle their debts after a company voluntary arrangement (CVA) was approved by their creditors on 18 July.
The Shakers are still looking for new ownership after Steve Dale put the club up for sale in April.
Meanwhile, Bolton have been in administration since 13 May and three of their pre-season games were cancelled, with players saying they had not been paid for five months.
A takeover of the club by Football Ventures was due to be completed at the end of last week, but it is yet to be confirmed.
On the Trotters, the EFL added: "The board has fully considered the club's further submissions and is satisfied that they are sufficient to meet the requirements of the league, subject to the completion of formal documentation.
"As a result the EFL board has opted not to suspend their opening day fixture with Wycombe Wanderers and it will remain as originally scheduled."
Analysis: Bury fans feel 'shock and sadness'
Mike Minay, BBC Radio Manchester Sport:
This is unprecedented territory - when asked earlier, the EFL could not give an example of a previous incident where they had had to force a fixture suspension because of such circumstances.
The fans are a mixture of outraged, shocked, and saddened by what has unfolded at their club in the past few months. It is a club that, only a few months ago, was bouncing from promotion.
The club appeared to be turning a corner, with a CVA approval from creditors, a new manager appointed, and a pre-season win.
However, some of the hard summer work to try and get the club back towards the straight and narrow has been undone by this development.