Huddersfield Town reveal their new kit - without a sponsor
Last updated on .From the section Huddersfield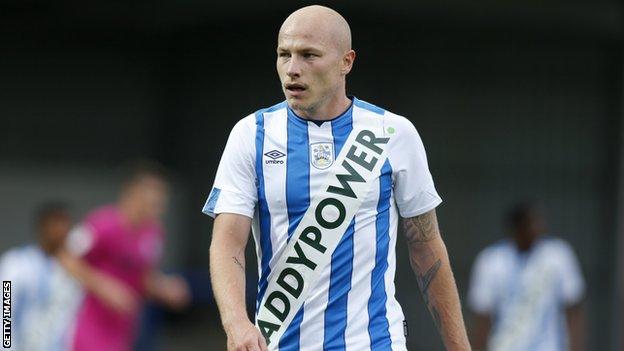 Huddersfield Town have revealed their new kit - without the diagonal sponsor's logo that was worn in Wednesday's friendly against Rochdale.
The original kit, which had the name of a bookmaker splashed across it, was believed to be a spoof when unveiled.
"I can only apologise to our fanbase for putting them through that," commercial director Sean Jarvis told BBC Radio Leeds.
"But out of the darkest hour comes the lightest moment."
The Football Association (FA) previously said it would contact the Terriers about the shirt.
"When we announced the kit, we knew the design would cause quite a negative stir and that was part of the campaign," Jarvis said.
"It's ironic now that from being the most hated kit when we brought it out to being the most wanted.
"We've only got a very limited amount of them and everyone now wants one for posterity."
It was announced on Friday that the original shirt was part of a campaign by betting company Paddy Power for more unbranded football kits.
Huddersfield's new kit does not have a sponsor logo on it.
"Shirt sponsorship in football has gone too far," Paddy Power managing director Victor Corcoran said.
"We accept that there is a role for sponsors around football, but the shirt should be sacred."
FA regulations clearly state a playing kit is only permitted to have "one single area not exceeding 250 square centimetres on the front of the shirt".
Analysis
BBC Sport's Frank Keogh
It is understood only a limited number of shirts containing the sponsor's 'sash' logo were produced, specifically for Wednesday's friendly at Rochdale, and they are likely to be auctioned off for charity.
The club is aware that some fans were "shocked and annoyed" by Wednesday's 'launch', although Friday's announcement has been welcomed.
Paddy Power's name will not appear anywhere on the home or away kits, although it will be involved in typical elements of a title sponsor deal, such as an advert in the matchday programme and some branding on perimeter boards at the ground.
The FA has previously told me its rules on shirt sponsorship do cover friendlies.
On Wednesday, the FA said it was contacting Huddersfield to request their observations and would take action "if appropriate".