Laurie Dalrymple: Wolves part company with Premier League club's managing director
Last updated on .From the section Wolves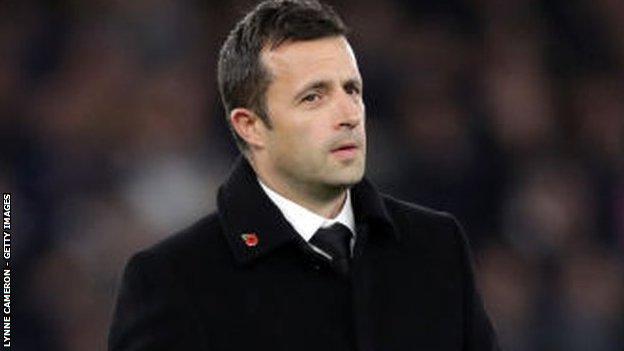 Wolves have parted company with managing director Laurie Dalrymple after four and a half years with the Chinese-owned Premier League club.
Dalrymple, who previously worked in the club's commercial department, was appointed to the newly-created MD role following a takeover by Fosun International in July 2016.
But his contract has now been ended and he has left with immediate effect.
Chairman Jeff Shi will take over some of Dalrymple's 'key responsibilities'.
Shi said: "We have very clear strategies for all areas of the club. We are very much looking forward to the new challenges that this season will bring.
"With the strong management team we have in place at Wolves we will continue to push forward on and off the pitch."
A statement on Wolves' club website confirmed that "managing director Laurie Dalrymple has had his contract ended and been placed on garden leave with immediate effect".
Following promotion as Championship winners in 2018, Wolves finished seventh in the Premier League last season. They head off to the far east on Sunday to play in the pre-season Asia Trophy tournament.
They will meet Newcastle United in the semi-final, then either Premier League champions Manchester City or West Ham United, either in the final or the third-place play-off.
Full-back Matt Doherty misses the trip following a pre-season training injury, while Morocco midfielder Romain Saiss and Mexico striker Raul Jimenez are excused, following their recent international commitments.
Analysis
BBC WM's Wolves reporter Mike Taylor
Many Wolves fans will be surprised at this news, especially given the short time to go before the start of the season, and it will disappoint quite a few too.
Dalrymple has been largely popular during his three years in post, often seen and heard as a public face of the club during the early years of their Chinese ownership.
In particular, he has been prominent in efforts to keep in close contact with fans - more than once, for example, buying rounds of drinks for travelling supporters at away games - an important role after a period in which the relationship between club and supporters had notably deteriorated.
The words "had his contract ended" and "garden leave" in the club's statement will of course lead some to draw unsettling conclusions, rightly or wrongly, although it may take some time for it to become clear whether any such concerns are justified.
Dalrymple's remit was always more on the business side of the club than the football side, closely though they are related.
Whether there is a clear change in the club's business outlook from this point onward will no doubt soon be apparent.
Ultimately, though, if the team's progress remains as strong as it has in recent years, the majority of supporters will probably remain happy, whoever is seated in the boardroom.