National League: Wrexham host Barrow in 2019-20 opener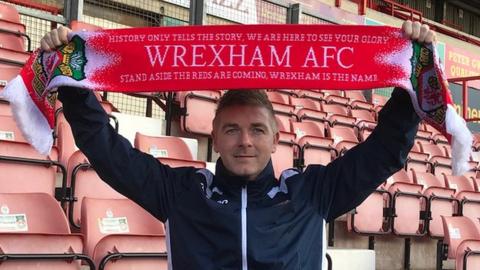 Wrexham begin their 2019-20 National League campaign at home against Barrow on Saturday, 3 August.
A trip to Boreham Wood follows three days later with another away game at Dover Athletic on Saturday, 10 August.
They host Chorley on Boxing Day and visit them on New Year's Day with a trip to Maidenhead on Saturday, 28 December between those games.
Wrexham begin their attempt to reach the FA Cup first round in fourth-round qualifying on Saturday, 19 October.
Relegated Notts County host Bryan Hughes' side on Saturday, 17 August in his first full season in charge.
"It's very pleasing to start at home," Hughes said. "We're generating good season ticket sales at the moment, we've brought some good players into the club and it's nice to start with a home fixture.
"Personally, the home fixture against Barrow last season was one of the worst performances under myself so hopefully we can put that ghost to bed and get it right on the first game.
"The National League is a difficult league to get out of, games are often won by fine margins, and the first month will be a grind with eight fixtures. Players will have to be fit which will be my job, ready for that first month because it is going to be a slog.
"Our home form was critical to us - we had the best record in the division - and we want that to continue, so now we'll be looking to picking up more points away from home."
Hughes, who says he is still looking to add signings to his squad, added: "We wanted to keep the nucleus of last season's squad together and add to certain areas that can be effective for us this season.
"We've brought attack-minded players to the club who can hopefully make a difference, because you could see where the problems were for us last year."