Rangers face potential early Europa League kick-off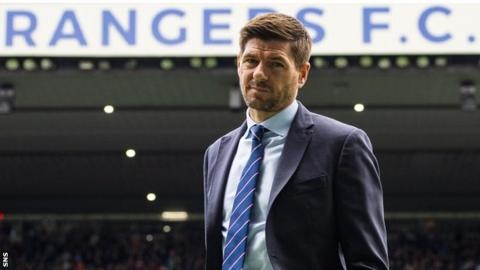 Rangers could kick off their Europa League campaign on Tuesday 9 July if St Joseph's reach the first qualifying round to face the Scottish side.
St Joseph's and Prishtina, of Kosovo, drew 1-1 in the first leg last week.
Should St Joseph's progress, along with compatriots Europa, they cannot both play on the traditional Thursday night slot because Gibraltar only has one stadium suitable for European ties.
In that instance, St Joseph's would host Rangers on the Tuesday.
The game would also have to kick off before 18:00, but the Ibrox club won't know the details of their first competitive game of the season until Thursday.
Their first-round opponents will be confirmed on Tuesday, when St Joseph's and Prishtina meet in Gibraltar.
However, Europa don't play their preliminary round second-leg tie against Sant Julia on Thursday, with the Andorran side leading 3-2 from the first leg.
Both Gibraltar sides will fancy their chances of progressing, being at home for their second legs.
Rangers manager Steven Gerrard expressed himself "very pleased" with his side's pre-season preparations, which continued with a 2-0 win over English League Two outfit Mansfield Town on Saturday courtesy of goals from Sheyi Ojo and Greg Docherty in the Algarve.
"It has been a fantastic week and the boys have applied themselves very well and we are probably slightly ahead of where I thought we would be right now," he told Rangers TV.
"They have raised the bar and they have put in more distance this week and the quality is getting better while we are adding quality to it and a few more signings will come through the door."
League One outfit Oxford United visit Ibrox for a friendly on Sunday, with Gerrard suggested "we'll be ready to compete and get the job done" ahead of the Europa League qualifier.