Notts County: Owner Alan Hardy 'confident' of sale by 10 July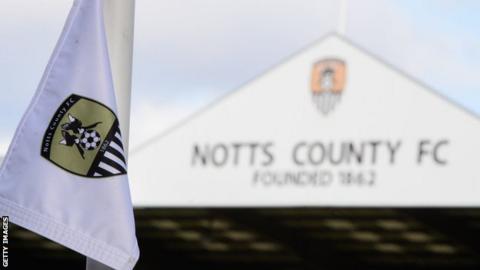 Notts County owner Alan Hardy has said he is "extremely confident" the sale of the club will be completed before they appear at the High Court on 10 July.
Notts had a winding-petition against them from HMRC over an unpaid tax bill of around £800,000 adjourned in June to allow time to complete the deal.
Since that hearing, Notts' players and staff have not been paid June's wages.
Meanwhile, the PFA have confirmed they "are involved and are speaking to the players and the club".
Hardy says he will work with the prospective buyer to "rectify" the unpaid wages.
In a statement on the club website, Hardy said: "I deeply regret being unable to fulfil this obligation to my employees and hope - and expect - there will be a speedy resolution."
Earlier in the day, Nottingham South MP Lilian Greenwood told BBC Radio Nottingham she is "deeply concerned" for those who "rely on Notts County Football Club for a living".
"It must be a very uncertain future for all of them," she added.
Hardy has not revealed the identity of the potential new owners, saying it "remains private business until formalities are completed".
"I am also aware that a great deal of cynicism is likely to come my way in response to this update, which I can understand following an immensely frustrating and disappointing chapter in the club's history," Hardy continued.
The club statement came after Ms Greenwood said Notts had no money to pay wages and no "definitive" buyer lined up.
Hardy, however, confirmed they are now dealing with just one takeover group after "hugely constructive talks today".
The Labour MP also said she was "disappointed" that Hardy "refused" to meet with the club's supporters himself as "fans are angry, worried about the future of the club they love".
Notts owner Hardy, who has had parts of his interior design company Paragon sold off by administrators, first put the financially-troubled club up for sale in January.
'Biggest crisis'
Since then, the 157-year-old club was relegated from the English Football League for their first time in their history, having been a founding member of the competition in 1888.
Colin Slater, a former BBC correspondent who has followed Notts County for 60 years, said the club is in a "sad state of affairs".
"It is the biggest crisis I've known at Notts County," he told BBC Radio Nottingham.
"Notts desperately need a buyer to come on the scene and be willing to pay a realistic sum.
"It hasn't happened for six months and they now need it to happen as quickly as possible for someone to come on the scene with money and the intention of making Notts County a league club again."