Women's World Cup: England boss Phil Neville says they want to build legacy
Last updated on .From the section Women's Football
England manager Phil Neville said "we can't hide away from the fact something is happening" with the Lionesses after they reached a second consecutive Women's World Cup semi-final.
England, who have never won a major women's tournament, beat Norway 3-0 in Le Havre to move to within 90 minutes of a first Women's World Cup final.
They will face France or the USA - who play on Friday - in Lyon on Tuesday.
"We want to inspire and to build a legacy," said Neville.
The popularity of women's football has dramatically increased in recent years and Neville, who took charge in January 2018, hopes his side can make the most of it.
He said: "We had a camp last year and we set out the objectives for the next 12 months, and all I wanted them to say was 'win the World Cup'.
"But they were thinking bigger than winning a World Cup, which knocked me in my stride a little bit.
"We want the Lionesses to have a name that people around the world can relate to… badass women. That was our mantra.
"We're now at the point where we are inspiring, where people are jumping on board… it just feels really good."
And Neville, who said he asked his players at the end of the game "are you ready to win a World Cup?", added that no matter how hard he tries, he cannot stop thinking about glory in Lyon on Sunday, 7 July.
"We want to come home with that World Cup," he said. "I keep thinking to myself, 'stop saying it', but we can't hide away from the fact something's happening. We cannot wait for Tuesday."
England reached the last four thanks to goals from Jill Scott, Ellen White and Lucy Bronze against Norway.
Their semi-final will be their toughest test yet, against either hosts France or defending champions the United States, the world's top-ranked team.
The Lionesses have never won a major trophy, but this is their third consecutive semi-final - reaching the last four in 2015 and Euro 2017 under former boss Mark Sampson.
England last played against France and USA in the SheBelieves Cup - an annual invitational tournament held in the United States.
They beat France 4-1 in 2018 and drew 2-2 with the US this year, on their way to winning the title.
Of their win over Norway, former England defender Neville said: "This was the best they have played under me.
"We keep saying we are having fun and they are playing like it. I knew we were going to win this game because of the look in their eyes and the 11 that didn't play were driving it."
The former England and Manchester United defender said he is "not bothered" who stands between them and the final.
"You've got the best team in the world and you've got probably the second favourites in France, who have the support and backing of the home nation," he said.
"My players want the biggest games. I want the biggest games and this will be the biggest game of the World Cup.
"The atmosphere and occasion at the semi-final will be incredible. The players have proved the bigger the occasion, the better we are."
Despite the euphoria of victory, Neville said he does not want fans singing "football's coming home", which became the soundtrack of England's semi-final run in the 2018 men's World Cup.
"No, no, not yet," he said. "We're a team that's lost in the semi-finals in the past two major tournaments.
"The main reason I feel I was brought in to this job was to get us through a semi-final. I felt as if this type of football would get us through a semi-final."
England's victory, which was fully deserved, boosted hopes of Team GB reaching the 2020 Olympics. If England finish in the top three European teams at the World Cup, then there will be a British team in Tokyo.
Famous faces help with England team talk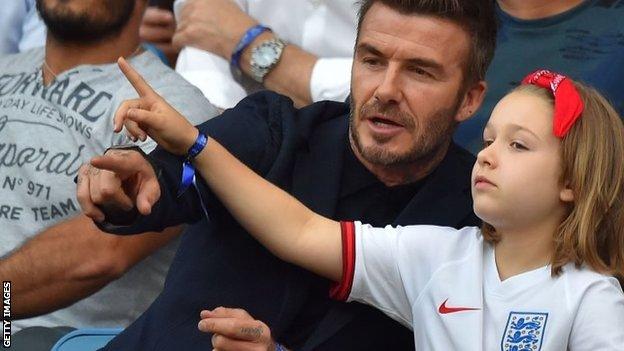 An Olympic legend and two former England men's internationals helped Neville out before the game.
"[Five-time Olympic rowing medallist] Katherine Grainger sent a video message that we played to the team beforehand. That was goosebumps. She's the greatest ever female Olympian," he said.
"My players loved it. They could relate to a female Olympian who has broken down barriers and made sacrifices.
"Then we went downstairs and David Beckham and [his daughter] Harper were introduced to the team. That gave them a sense of how special the performances have been.
"He's an icon who has been supporting me and the Lionesses from day one. He's got great humility. He spoke fantastically to the team.
"And then, to top it all off, Ian Wright was in reception, so I took him in to the meal room and he started cracking jokes with them.
"He knew every single player's name, by their nicknames. He just made them laugh, so my job was easy.
"So we were actually so relaxed before the game."
Bronze has been 'dreaming of Lyon semi-final'
Bronze, whose magnificent long-range strike sealed the victory, has extra reason to look forward to the semi-final in Lyon. She plays her club football for Lyon, where she has won the past two Champions Leagues. The final is also at the Stade de Lyon.
"I've been dreaming of getting to the semi-final in Lyon," she said. "All the passion came out in that strike.
"We'll have to raise our game against France or the USA but we know we can match up against either one of those teams."
'England win was exquisite to watch'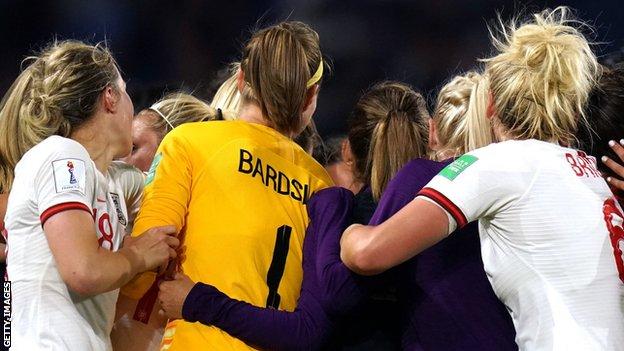 England keeper Karen Bardsley, who had three saves to make, said the win was "exquisite to watch".
The 34-year-old is at her third World Cup with the Lionesses - all under different managers, Hope Powell, Sampson and Neville.
"It was a very commanding performance," the Manchester City player said. "We were brave in playing in tight spaces and stuck to the game plan.
"We could have had a few more opportunities. It was a very convincing win.
"I'm so proud of these girls. We keep building momentum and facing new challenges and overcoming obstacles."
Bardsley, who was born and raised in the USA, said she does not mind who they play in the semis, adding: "I don't care. I just want to play. I'm ready. Let's go."
White delighted to add to goal tally
England striker White is now the joint top scorer in the tournament on five goals, along with US legend Alex Morgan - who scored all hers against Thailand - and Australia's Sam Kerr, who lost in the last 16.
"I'm delighted to get on the scoresheet," said the 30-year-old, who has joined Manchester City this summer. "It was an unbelievably great team performance. We really dug in.
"We've grown throughout the tournament.
"The atmosphere was incredible. The Le Havre games have felt like home games for us. The amount of fans who have spent money to come out and support is us incredible. The noise was unbelievable.
"Phil has instilled a family environment. We get to know each other on and off the pitch. We're surrounded by people who you know have your back."
How England's players reacted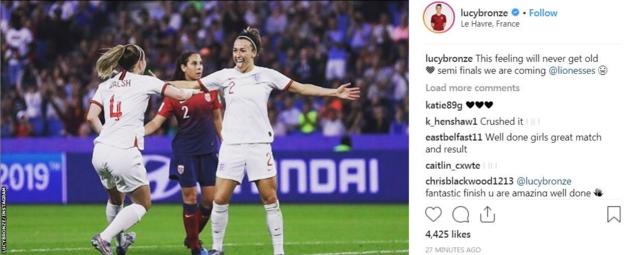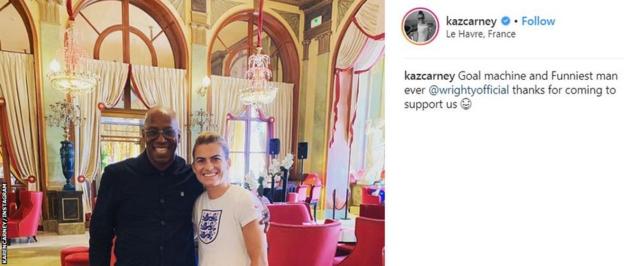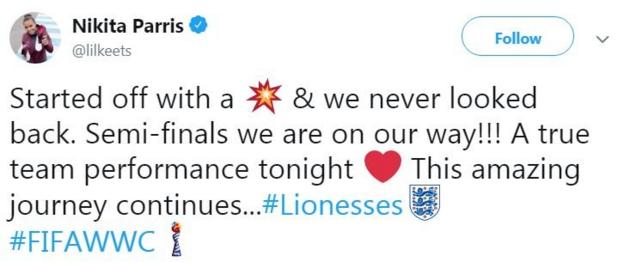 How the papers reacted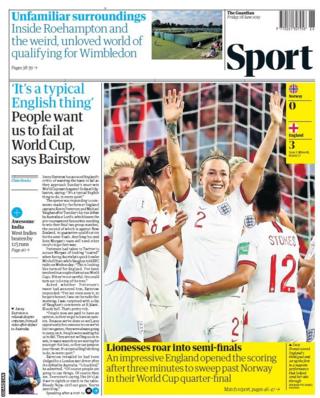 Friday's Guardian Sport