Justin Edinburgh: Leyton Orient captain pays tribute to 'truly great man'
Last updated on .From the section Leyton Orient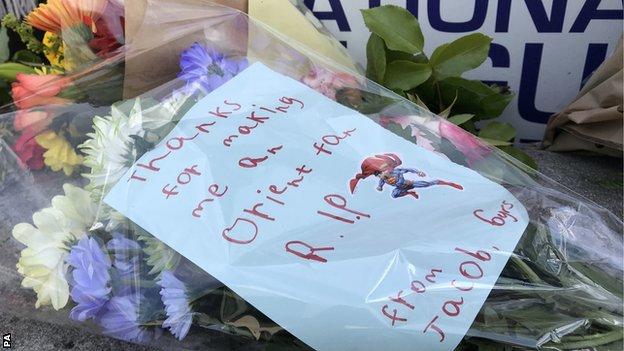 Leyton Orient captain Jobi McAnuff has paid tribute to late boss Justin Edinburgh and said the club will continue to build on his legacy.
Edinburgh died on Saturday aged 49, five days after a cardiac arrest.
McAnuff described the Orient manager as a "leader, a fantastic manager and a truly great man".
"You've helped rebuild what was a broken club and been the driving force returning it to where it belongs," the 37-year-old winger added.
Edinburgh, who won the FA Cup as a Tottenham player, managed Northampton Town, Gillingham and Newport County before moving to Orient in November 2017.
McAnuff said he was "a man who inspired so many of us with his drive, passion and sheer desire to win."
"A man who had so much love for this game and even more for his family, my heart goes out to them at this tragic time," he added.
The winger said Edinburgh "always did it with a smile on [his] face and with a huge respect for others".
"I am so grateful that I got to share some truly amazing moments with you and know how much winning the league with this club meant to you," he added.
"It was a privilege and an honour to serve as your captain and these happy memories will lie with me forever.
"You were always at the centre of all the jokes and the banter with the boys and staff, we had so many laughs and good times.
"You've helped rebuild what was a broken club and been the driving force returning it to where it belongs.
"That will be your legacy here and as difficult as it will be, it's now up to us to carry that on and make sure all of that hard work is continued and built upon."
'They all bought in to Justin's vision'
BBC London Leyton Orient correspondent Dave Victor - a supporter since 1971, who started reporting on the side in 1983:
"I don't think we can still quite believe what has happened. It was only three weeks ago when there were over 23,000 Leyton Orient supporters at Wembley for the final of the FA Trophy, and although Leyton Orient missed out on that occasion, it didn't really matter because everyone was there to celebrate Leyton Orient's return back to the Football League.
"When Justin took over in December 2017, Leyton Orient were on course for what would have been their third relegation in four years, they had gone three months without a win. They didn't get off to a good start under Justin, they lost their opening game, but Justin took responsibility immediately.
"He had an incredible impact on the club. And what is remarkable is Leyton Orient's success was built on the squad that Justin inherited; virtually every player got better because of the way he inspired and changed the culture of the club.
"He was very committed to them; he was very loyal to his players; he was very critical of supporters that got on the back of individuals. He wasn't just loyal to those in the side, often when I spoke to him after the game, he made a point of talking about the players who weren't actually in the squad, but had still contributed to the success because of the way of which they had gone about their training.
"There was an integrity about Justin Edinburgh. There was a clarity about Justin Edinburgh. Everybody bought in and it felt as if it was just the beginning. You got the sense that it was the start of something special at Leyton Orient and Justin Edinburgh would have gone on to be a very successful manager in the Football League. But this is about reflecting on a man who had enormous passion and pride, and what he was proud of more than anything in football was his family and, of course, our thoughts and prayers are with them."
Fans pay their respects at Brisbane Road
Supporters laid flowers outside Leyton Orient's home ground Brisbane Road on Sunday as they paid their respects to Edinburgh.
Floral tributes, signed football shirts and scarves were left as a mark of respect as both home supporters and fans from other clubs marked a solemn day for the east London club.