Champions League final: Tottenham fans' trip to Madrid delayed by bird-damaged plane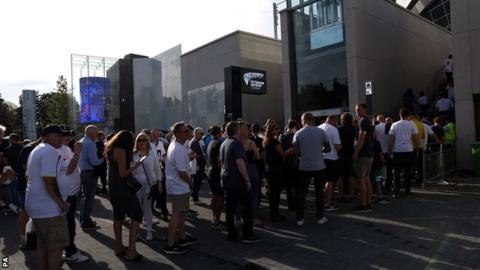 About 200 Tottenham fans missed the start of the Champions League final against Liverpool in Madrid after their plane from Stansted Airport was taken out of service because of bird damage.
It was due to take off at 09:50 BST but operator Thomas Cook had to source a replacement plane and it was delayed until just before 17:30.
The aircraft landed about 45 minutes before the 20:00 BST kick-off.
The supporters arrived after Mohamed Salah had given the Reds the lead.
Rob White, the son of former Tottenham midfielder John White, tweeted at 16:10 BST: "We are now sitting on an actual plane after a 6.5 hour omnishambles!"
Thomas Cook released a statement saying that the original aircraft was "deemed not safe to operate".
Many of the supporters, who witnessed their side lose 2-0 to the Reds, then returned to Madrid's main airport to discover the 01:55 BST flight back to Stansted had been cancelled.
Instead, they were allocated a flight back to the UK at 08:00 on Sunday.