Daniel James: Wales boss Giggs confirms winger chose to be in squad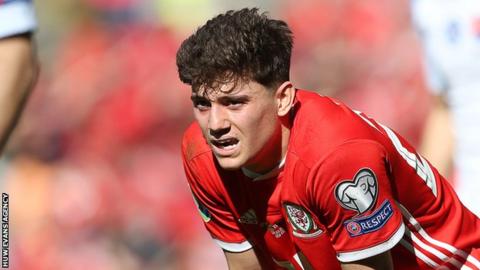 Manager Ryan Giggs says it was winger Daniel James' choice to be included in the Wales squad for June's Euro 2020 qualifiers in Croatia and Hungary.
James withdrew from Wales' training camp in Portugal last week following the death of his father, Kevan.
"Obviously it's terrible what has happened," Giggs said.
"I spoke to Dan. He is really keen to meet up, he is really keen to be involved in the games. I said we would touch base again this week."
With the date of his father's funeral yet to be arranged, however, James' presence in Osijek and Budapest is not guaranteed.
Asked if James could still miss one or both games, Giggs replied: "Yes. He didn't know what date the funeral is and we'll have to see.
"Once we know when it is, we'll touch base and see. But I've said to him, if you have to go back or meet up a little bit later then we'll just play it by ear. He's going to call me."
Manchester United have been in talks with Swansea about signing the twice-capped player, whose goal gave Wales a 1-0 victory over Slovakia in their opening qualifier in March.
Asked if United manager Ole Gunnar Solskjaer, a former team-mate of Giggs during his Old Trafford playing days, had asked him for his view on the winger, the Wales boss said: "You don't need to speak to me to see the quality Dan has had, especially from the turn of the year.
"It has been well documented. The transfer breaking down with Leeds, the week after they (Swansea) played Leeds away and he played really well.
"From then really he has kicked on. For me, in the last game, he was fantastic.
"He is a talent and when you have speed like that as well as the temperament that he has, he could play anywhere.
"If you go to United or any big club there is pressure on you - you see that with the likes of Aaron (Ramsey), Ben (Davies) and Gareth (Bale).
"When you meet up internationally then you're used to that pressure and there are so many benefits to playing at a higher level.
"As a manager you want all your players to be playing to a higher level as they can and their ability deserves."
Wales squad: Hennessey (Crystal Palace), Ward (Leicester City), A Davies (Barnsley), A Williams (Everton, on loan at Stoke), Taylor (Aston Villa), Mepham (Bournemouth), Gunter (Reading), Roberts (Swansea City), B Williams (Barnsley), Ampadu (Chelsea), Rodon (Swansea City), Lockyer (Bristol Rovers), J Lawrence (Anderlecht), Allen (Stoke City), J Williams (Charlton Athletic), Vaulks (Rotherham United), Brooks (Bournemouth), Smith (Manchester City), Levitt (Manchester United), James (Swansea City), Bale (Real Madrid), Woodburn (Liverpool), Wilson (Liverpool, on loan at Derby County), T Lawrence (Derby County), Matondo (Schalke 04), Thomas (Leicester City, on loan at Scunthorpe United), Vokes (Stoke City), Moore (Barnsley).