Bolton Wanderers winding-up petition suspended after club goes into administration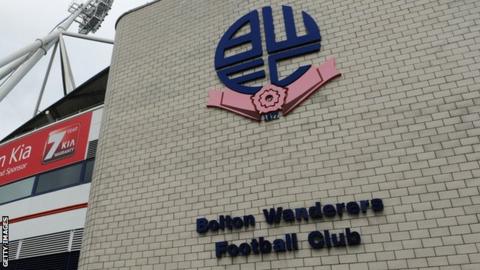 A winding-up petition against Bolton Wanderers over unpaid taxes has been suspended by the High Court after the club went into administration.
The Championship side still owe more than £1m to HM Revenue and Customs.
No new court date has been set as administrators later confirmed the club was actively being marketed for sale.
"Over 30 parties approached us and we now begin selecting those best positioned to make a serious offer," said joint administrator Paul Appleton.
"Speed is of the essence in this process and we are advising all those with a serious interest to provide information concurrently to the English Football League in respect of their owners' and directors' test in order to satisfy those demands."
In a statement, the club said there were "several stipulations which have to be met" before any takeover is completed, including "proof of funds amounting to not less than £25m".
A takeover by former Watford owner Laurence Bassini collapsed on 7 May, leaving the club unable to pay its bills or staff and player wages.
Wanderers will start their League One campaign with a 12-point deduction after going into administration.
Non-playing staff were told on Tuesday that they would be paid wages from 13 May when administrators took over.
A food bank has been set up to help staff who have not received their salaries since April, while the club failed to fulfil their penultimate fixture of the season against Brentford after players refused to play over unpaid wages.