Europa League final: Arsenal & Chelsea fans face difficult trip to Baku
Last updated on .From the section European Football522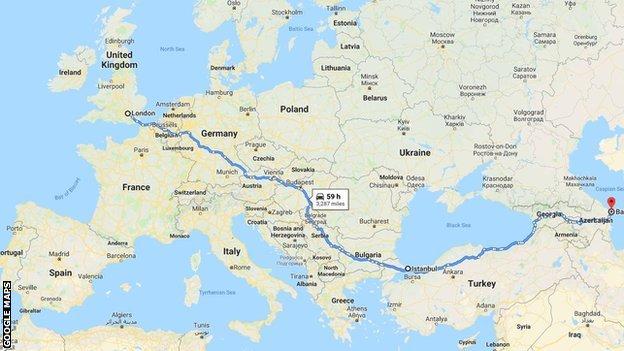 Their stadiums may only be separated by an eight-mile hop across London, but Chelsea and Arsenal fans now face a long journey to the eastern edge of Europe for the Europa League final.
Success for both sides on Thursday ensured the Londoners will meet in an all-English final in Baku, Azerbaijan on Wednesday, 29 May.
That means supporters will have to travel 2,467 miles to watch the game in a city further east than Riyadh in Saudi Arabia or Baghdad in Iraq, and closer to Mumbai in India than it is to the English capital.
You might think modern transport would mean journeys would be straightforward.
You would be wrong.
There are currently no direct scheduled flights between London and Baku in the week of the final.
If you want to fly to the game on the day then a lengthy wait in somewhere like Istanbul or Kiev would be needed.
The quickest journey by air on the day of the final takes six hours 55 minutes, with the majority lasting more than 10 hours.
The only way to fly direct to Baku for the game would be to leave London on the Saturday beforehand and return a week later, three days after the trophy has been lifted.
That's an eight-day trip for 90 minutes of football - and for a game which kicks of at 11pm local time (20:00 BST), so will not finish until about 1am!
So what about the train?
It takes more than four days to travel from London to Baku on public transport, passing through seven countries. Anyone who watched BBC Two's Race Across the World will know it might also involve some less-than-first-class rail conditions.
The whole journey would likely include 11 changes and a two-day train journey from Kharkiv in Ukraine to Baku.
Of course you could drive, but you would be looking at around 59 hours behind the wheel. It is made longer than it might otherwise have been because of the need to avoid a closed border crossing and an area of eastern Ukraine in which Russian-backed rebels are confronting Ukrainian troops along a mainly static frontline. Making the actual journey safely, therefore, involves an alternative route, with going via Istanbul one option.
When you take in the time needed to eat and sleep, it would probably be best to set off on the Saturday to make the Wednesday night kick-off.
For the victors, another game thousands of miles away against English opponents will only be a matter of months away - the Champions League winners will face the Europa League winners (either Arsenal or Chelsea) in the Uefa Super Cup in Istanbul, Turkey on Wednesday, 14 August.
But if you think those trips are remarkable for two teams from the same city, they are nothing compared to the 2018 Copa Libertadores final.
In December, the second leg of south America's showpiece event - originally due to be staged in Buenos Aires in Argentina - was moved more than 6,000 miles to Madrid after the Boca bus was attacked on its way to the stadium.
Analysis: The environmental impact
To help the discussion of why two London clubs need to go almost 2,500 miles to Azerbaijan to play against each other, when they are both less than 15km from Wembley, the Reality Check team has been looking into the carbon footprint of those journeys.
Assuming 12,000 fans use economy class return flights, we've tried one carbon calculator that says it's 5,595 tonnes of CO2, one that says it's 8,280 tonnes and one that says it's 13,094 tonnes - 15,600 if you include radiative forcing, which is the extra emissions from flying at high altitude.
If you look at the highest estimate (because you know some people will travel without tickets to the game, not everyone will fly economy class, and you also have to transport the teams and club staff), according to the US Environmental Protection Agency that's the amount of emissions you'd get from the energy needs of an average home for 1,868 years or running 3,300 cars for a year. To save that amount you'd have to switch 600,000 incandescent light bulbs to LEDs.