Morton chairman Crawford Rae 'understood' Jonatan Johansson's integrity as he leaves club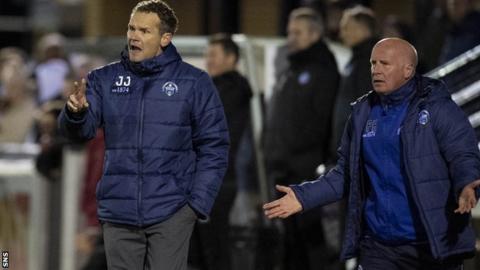 Morton chairman Crawford Rae says having more people at the club with "a view and a voice" led to Jonatan Johansson's departure as manager.
The Finn, and his assistant Peter Houston, left their roles two hours before a 1-0 win against Dundee United.
It emerged they were told not to play Charlie Telfer because it would trigger a contract extension, but Rae says they could have selected the midfielder.
"I understood their integrity with this," Rae told BBC Radio Scotland.
"I said to Jonatan and Peter that if you feel strongly about it I'm giving you permission to start Charlie, as long as you come out and take the team.
"They said they would consider that and come back to me in 10 minutes and said they were going. I think they'll be regretting that given the performance the boys gave. But I've got nothing but praise for the two of them.
"The next manager that comes in, if Charlie Telfer is a player they fancy then we'll give him a contract."
Johansson and Houston were also told in a meeting before the game with the chairman that their contracts would not be extended at the end of the season.
"[On Friday] night Jonatan phoned me and said the chairman had just phoned him and wasn't very clear what they were talking about, but one thing he did mention was that we couldn't play a certain player," Houston told Sportsound.
"This certain player would reach it [amount of games to trigger a new deal] today and probably has been our best player over the last three or four games.
"The chairman came into see us nearer 1pm [on Saturday] and the first thing he did was apologise we couldn't play this player, which didn't go down well.
"Then he told us that because of cost-cutting they wouldn't be renewing the clause in our contracts. In one breath you are being told what team you can't play, and in the other you are getting bulleted anyway."
Johansson and Houston took over in September after Ray McKinnon left Cappielow to join Falkirk. Their contracts came with an option to be extended by the club for the 2019-20 season.
"Somehow I think that was leaked by someone," said Rae, who intended to give the pair the news once the club's season was finished.
"Jonatan and Peter did a fantastic job and it's tinged with sadness. I had a fantastic relationship with Jonatan - I liked him as a person and he was fantastic on the training ground.
"I explained to them today that for 20 years there has been one man - my father (Douglas Rae) - running the club.
"But there's more shareholders involved now who express their view for the future.
"We've had to bring other investment into the club and when that happens naturally these people also have a voice. We have a board and investors with a view we need to listen to, and that regrettably was the reason for the two boys leaving."
Morton midfielder Telfer says he's in the dark about his future, following the day's events.
"It all happened very quickly," he said. "I don't want to be a reason why a manager has gone.
"I don't know what's going to happen now. I'll go away, enjoy my summer. It's a shame it ended like this."