Barcelona v Liverpool: Man pushed in fountain leads to plea from Reds chief Peter Moore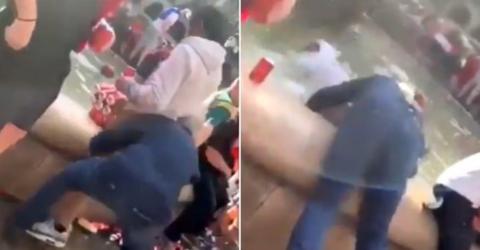 Liverpool have condemned the "totally unacceptable" behaviour of a man seen pushing people into fountains in Barcelona.
The Reds play the first leg of their Champions League semi-final at Barca's Nou Camp stadium on Wednesday.
Two separate videos have emerged on social media of a man pushing people into a fountain, while others in his group laugh and taunt those attacked.
The club is working with Merseyside Police to identify those involved.
Liverpool chief executive Peter Moore tweeted: "We proudly sing that we've conquered all of Europe.
"But let's treat this beautiful city with the respect that it deserves, and act in a manner that is befitting of LFC.
"By all means have a good time, but we are Liverpool, and as such, let's visit here with grace and humility."
Two separate videos have circulated on social media.
In one, where fans have congregated in one of the city's squares, a man is lifted over the edge of a fountain and dumped into the water.
In another, a man stood on the edge of the fountain is pushed, before emerging soaking wet.
The man then approaches a group of supporters seen laughing and is taunted by members of the group.
In a statement the club said: "Such behaviour is clearly totally unacceptable and will not be tolerated.
"Liverpool Football Club is working with Merseyside Police and the authorities in Spain, who are endeavouring to identify those involved in the incident."
Merseyside Police superintendent Paul White said: "We want to reassure the public that we can act on incidents using British Law and we will take action."
Six men were arrested by Spanish Police on Tuesday in an unrelated incident.