Burnley working with police after fans clash with Cardiff supporters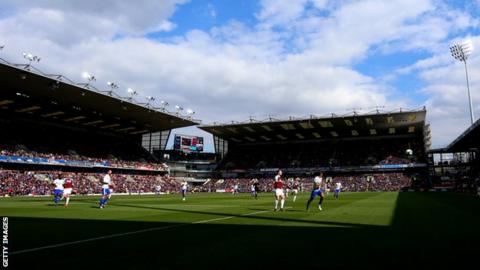 Burnley say they are working with police after the club's fans clashed with Cardiff City supporters outside Turf Moor on Saturday.
A video posted on social media shows fans fighting outside the ground, with one man apparently knocked unconscious.
The Clarets say they have banned a supporter after reports of "a number of offensive posts" on social media.
Burnley beat Cardiff 2-0 in the Premier League, with Chris Wood scoring twice for the hosts.
"The club, which has a strict zero tolerance policy to any racial, or discriminatory behaviour, strongly condemns the posts," the Clarets posted on Twitter.
"We are grateful to supporters for bringing them to the club's attention and, following a meeting with club officials this morning, the person responsible has been banned with immediate effect from Turf Moor, pending the conclusion of a police investigation."