Troy Deeney: Watford captain receives alleged racist abuse on social media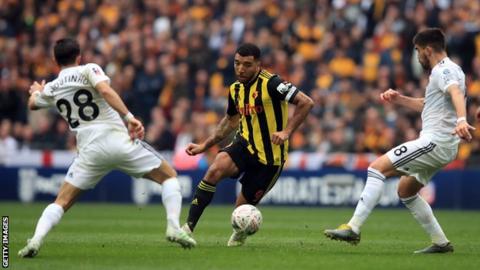 Watford captain Troy Deeney is the latest footballer to have received alleged racist abuse on social media.
The 30-year-old English forward has disabled comments on his Instagram page after abuse from "small-minded people" was aimed at him and his family.
His Hornets team-mates Adrian Mariappa and Christian Kabasele later said they had also received racist messages.
"Due to events from the last 24 hours I will be taking comments off my posts," Deeney said on Instagram.
"To me, this isn't a game. When you racially abuse my family or myself I have to take measures to prevent young people seeing these comments and thinking that it's acceptable, and having to expose people I care about to these small-minded people."
Kick It Out responded to the alleged abuse by calling on Twitter, Instagram and Facebook to take "decisive action" against those using their platforms for hate speech.
In a statement, the organisation added: "Whatever policies or technology the companies have in place, they are clearly no deterrent for the racists and those who think it's OK to spout this kind of hate.
"We ask, again, for all the social media companies to put a lot more resources into finding, reporting and excluding these people. We want to see these companies cooperate with the police to make sure offenders are punished for these criminal acts."
Kabasele, 28, has thanked fans from various clubs for their support since reporting the racist abuse he has received.
"These last few hours I received a lot of messages from a lot of true fans from a lot of different teams to support not only me but the fight against racism and just for this, thank you," said Kabasele.
He added: "Keep reporting any kind of discrimination anywhere you have seen it. Keep educating our children because they are the adults of tomorrow and teach them the true respect between human beings and maybe this fight will be easier in the future."
Manchester City forward Raheem Sterling was one of several England players to have racist chants directed at them during the Euro 2020 qualifier in Montenegro on 25 March.
On Thursday, Tottenham and England defender Danny Rose said he "can't wait to see the back of football" and is frustrated at the lack of action taken against racist fans.