Derby County: Rams report £14.6m profit after Pride Park sale to owner Mel Morris
Last updated on .From the section Derby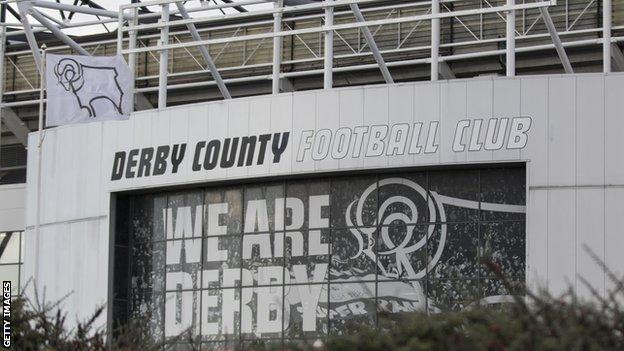 Derby have reported a pre-tax profit of £14.6m after selling their Pride Park stadium to owner Mel Morris for £80m.
The Rams have leased back the ground, which was independently valued but on the club's books as an asset worth £41m, from a company owned by Morris.
Profits for 2017-18 disclosed by the club - with public figures yet to be released through Companies House - follow a £7.9m loss 12 months earlier.
Last season was the first time in 10 years Derby have recorded a profit.
The East Midlands club, managed by former England and Chelsea midfielder Frank Lampard, have been trying to attract fresh investment this season.
Promotion-chasing Derby, who are sixth in the Championship after 38 games, also report that staff costs increased by £5.9m to £40.5m last season, when they finished in the play-off places under Gary Rowett but lost in the semi-finals to Fulham.
The Rams say their £29.6m turnover for the 12 months between 1 July 2017 and 30 June 2018, was the club's best ever in a non-parachute payment year.
Those figures, however, still mean that for every £100 the club generated in turnover, they spent almost £137 on wages.
Despite that, the Rams say they meet the English Football League's spending rules.
Derby also received £1.9m following Rowett's departure to Stoke and say they made a further £3.7m from clauses in previous sales of Tom Ince, Jeff Hendrick and Cyrus Christie.
Broadcast, ticketing and commercial revenue also rose by a combined £300,000 in comparison to the 2016-17 financial results.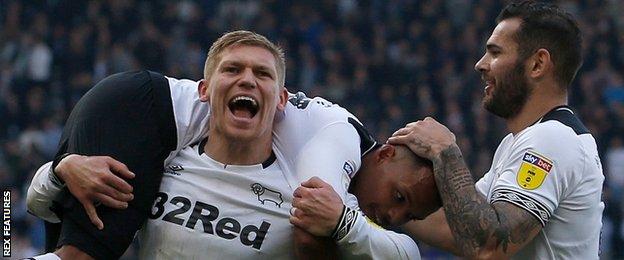 Analysis
Dr Dan Plumley, senior lecturer in sport business management at Sheffield Hallam University
"There are two sides of the coin, some will look at it and think that it's a bit naughty and a bit of creative accounting, but the other side of that is it is completely within the framework of what is allowable.
"If it generates that sort of profit and Mel Morris' company is willing to pay that money, then who are Derby to say no to that?
"It is unusual, but not unheard of and certainly not untoward in any way.
"It is better for a club to own its own stadium, but there is no suggestion that Mel Morris has nothing but the club's interest at heart. He is also looking for other investment or to sell the club as well so this is maybe another factor behind this decision.
"Primarily you look at that as a way of boosting profits and we know there are profitability and sustainability rules that clubs in the Championship need to comply with.
"Looking at Derby's 2016 accounts, they made losses of £14.7m, then it 2017 it was £7.9m and now they have made a profit of £14.6m. Over that three-year period losses of £39m are acceptable, so there is the fact that they are looking to comply with regulations. This is one way of doing that.
"If you look at the wage bill, it is outrageously high but that is not unusual in the Championship unfortunately as you have clubs that spend 100%, 120% 130% of wages to turnover.
"It is all for a Premier League gamble as they chase the pot of gold - and it is viewed less and less as a gamble by clubs, who see it as a strategic option to overspend to get there.
"If you get there, that's great. But if you don't, you have some real issues with big wage bills and the EFL's regulations on profitability and sustainability."