Boots to sponsor women's home nations and Republic of Ireland sides
Last updated on .From the section Women's Football
High street chemist Boots will sponsor the home nations and Republic of Ireland women's teams in a multi-million pound deal.
The sponsorship will be split in different amounts between the five Football Associations.
It is the first time such a deal has included all five nations.
Last month, Barclays bank became the Women's Super League's first title sponsor in a three-year deal understood to be worth in excess of £10m.
UK car maker Vauxhall ended its deal - thought to be worth £5m to £6m a year - with the men's home nations teams after the 2018 World Cup.
Boots' three-year deal covers this summer's World Cup in France and the 2021 European Championship in England.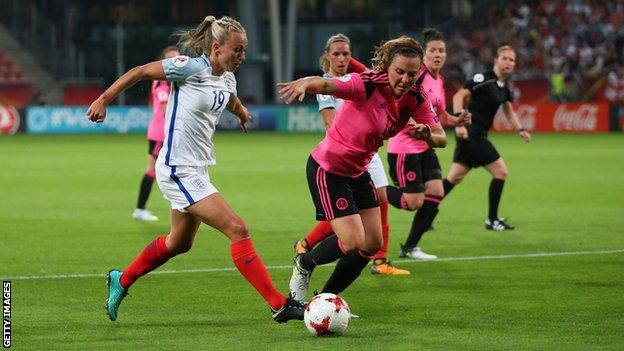 England women, ranked third in the world, and Scotland, ranked 20th, will face each other in Group D of the World Cup, which begins on 7 June.
Wales are 33rd in the world, with Northern Ireland 59th and the Republic 31st.
Mark Bullingham, chief commercial and development officer at the Football Association, said England were "delighted" to partner with Boots, who have not publicly acknowledged the financial value of the deal.
"It's important we partner with brands that share our passion for raising the profile of the sport and the ability to help us do so," said Bullingham, who will replace Martin Glenn as FA chief executive at the end of the season.
"I look forward to seeing us work together to make the Lionesses household names and inspiring the next generation of girls to take up the game."
A statement on the Wales FA website describes the deal with Boots as the "biggest commercial agreement in women's sport here in Wales".
The deal follows England boss Phil Neville calling on Manchester United, Chelsea and Arsenal to "throw open" their stadiums for women's football matches.
There have been high attendances recently for women's matches across Europe, including a top-flight domestic record of 60,739 as Barcelona beat Atletico Madrid on 17 March.
The Scottish FA (SFA) is set to receive a significant six-figure sum.
"We have seen a marked increase in interest in the Scotland women's team since qualifying for the World Cup and partnerships like this will only enhance our ability to grow the women's game in Scotland," said SFA chief executive Ian Maxwell.
Boots will not be the title sponsor for Northern Ireland, with the Irish FA stating the deal covers health and wellbeing initiatives only.
Northern Ireland manager Alfie Wylie said: "We welcome this support from Boots as the health and wellbeing of players is paramount across the many women's and girls' football programmes throughout Northern Ireland.
"We look forward to developing this relationship with Boots over the coming years."
Lowri Roberts, Wales' head of women's and girls' football said the deal could help change perceptions of the sport.
"We are able to creatively work together to really drive the message to those who aren't currently playing football in Wales that football is for you, it's not a sport that is just for boys. It's for girls and it's for women whether you want to play at elite level or just for fun," she said.
"Whether you want to volunteer or coach or referee it will resonate with female audiences that aren't currently engaged with football."
Analysis
Katie Gornall, BBC sports correspondent
This announcement is yet another boost for the women's game.
Major companies don't sponsor teams out of the goodness of their heart. They put their money where they see value, worth and opportunity. With the World Cup on the horizon, women's football is now a bandwagon that brands want to jump onboard. How times have changed.
Budweiser, Mars and Barclays have recently invested in women's football, with the high street bank putting £10 million pounds into their deal with the Women's Super League.
Boots' new partnership represents another sponsorship milestone in that it is the first stand-alone headline sponsor for the home nations and the Republic of Ireland. Previous deals - such as the one with Vauxhall - included the men's teams.
This is highly significant. Women's football is often criticised for being unable to support itself and for being over-reliant on support from the men's game. Today represents another important step towards the women's football being able to stand on its own two feet.