Premier League title: Liverpool or Man City - who will win 2018-19 race?
Last updated on .From the section Premier League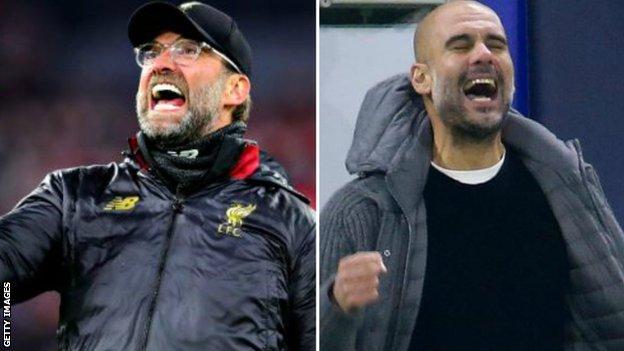 It's a title race that looks set to go the distance - but who will be crowned Premier League champions?
With the run-in well under way, Liverpool lead Manchester City by two points although Pep Guardiola's side have a game in hand.
Will City win all their remaining games as they eye a sensational Premier League, Champions League, Carabao Cup and FA Cup quadruple?
Or will Liverpool end a 29-year wait to be crowned champions of England?
Have a go at predicting who will win the title - and the rest of the top six.
Make your top-six prediction below
Race for the Premier League title

Date

Liverpool fixtures

Date

Man City fixtures

5 April

Southampton (A)

3 April

Cardiff (H)

14 April

Chelsea (H)

14 April

Crystal Palace (A)

21 April

Cardiff (A)

20 April

Tottenham (H)

24 April

Manchester United (A)

26 April

Huddersfield (H)

28 April

Burnley (A)

4 May

Newcastle (A)

4 May

Leicester (H)

12 May

Wolves (H)

12 May

Brighton (A)
Race for the Premier League top four

Arsenal

Chelsea

Man Utd

Tottenham

1 April Newcastle (H)

3 April Brighton (H)

2 April Wolves (A)

3 April Crystal Palace (H)

7 April Everton (A)

8 April West Ham (H)

15 April Watford (A)

14 April Liverpool (A)

13 April West Ham (H)

13 April Huddersfield (H)

21 April Crystal Palace (H)

22 April Burnley (H)

21 April Everton (A)

20 April Manchester City (A)

24 April Wolves (A)

24 April Man City (H)

23 April Brighton (H)

29 April Leicester (A)

28 April Man Utd (A)

28 April Chelsea (H)

27 April West Ham (H)

4 May Brighton (H)

4 May Watford (H)

4 May Huddersfield (A)

4 May Bournemouth (A)

12 May Burnley (A)

12 May Leicester (A)

12 May Cardiff (H)

12 May Everton (H)