England v Czech Republic: Jordan Pickford defends form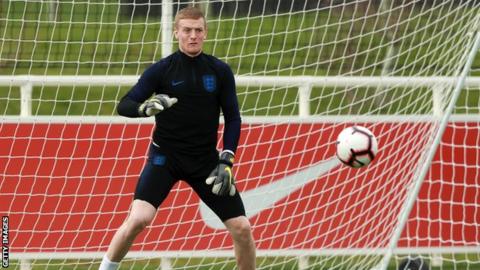 Goalkeeper Jordan Pickford has defended his form after manager Gareth Southgate said he would start England's Euro 2020 qualifier against the Czech Republic.
The 25-year-old was praised for his performances during last summer's World Cup, including a save in a penalty shootout against Colombia.
But he has been criticised after mistakes for Everton, including in the recent 3-2 loss at Newcastle.
"I don't know why people are questioning it so much," he said.
Speaking to Radio 5 Live, he added: "I know I made an error against Newcastle and a couple of errors before that. You know yourself if you are doing well and I think my form shouldn't be getting questioned. Apart from the Newcastle game I've been on a good run.
"With Everton we've been very good, we are getting that mentality back and we're winning games as well. Personally I think it's getting questioned a bit too much, but let that be, I'm not bothered anyway.
"In the Newcastle game, I made a mistake and bounced back with a good performance against Chelsea, so that shows my mentality and my character in myself, and I think that's been good for me.
"The manager has put faith in me to start tomorrow. I've been training well all week as well, so that's good."