Manchester City fan Paul Worth reveals Schalke attack left him 'close to death'
Last updated on .From the section Man City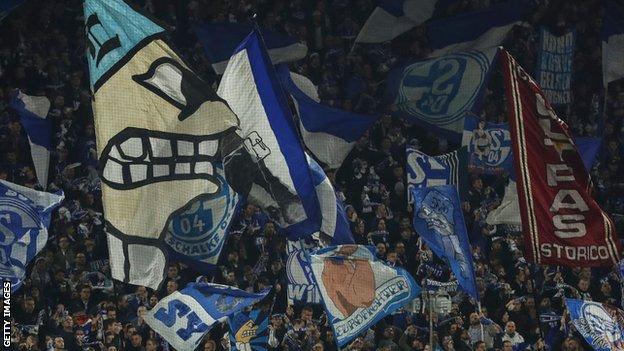 A Manchester City fan has revealed how doctors told him he was close to death after being attacked following the club's Champions League win in Schalke.
He was left in a coma and remained in a German hospital until last week.
"I've had staples in the back of my head, my jaw rewired and lost a tooth," the 32-year-old posted on Facebook.
In a post in which he thanked the support of fans, Mr Worth said he "could barely walk" when he was transferred to Salford Royal last week.
"Now I can walk up and down stairs and make tea and toast as part of my therapy," he added.
"I don't remember the actual incident. I just remember waking up in an ICU unit in Germany and the doctors and nurses were telling me how close I was actually to death."
Mr Worth had travelled to Germany with his family for the club's 3-2 win in the first leg of the last-16 tie.
Those with him said he could not talk when he woke from his coma.
The City supporter now says he faces a "long process" of physio and therapy and was due to receive results from a CT scan on Wednesday.
"Thank you from the bottom of my heart to all the people that are showing concern and also helping my family out during this time," he added.
A 30-year-old man was arrested by Gelsenkirchen police after the incident and police said he was a member of the Schalke "ultras".
City thrashed Schalke 7-0 in the second leg of the tie and now face Tottenham in the quarter-finals, with the first leg on 9 April.