SFA & SPFL to introduce new measures to combat crowd trouble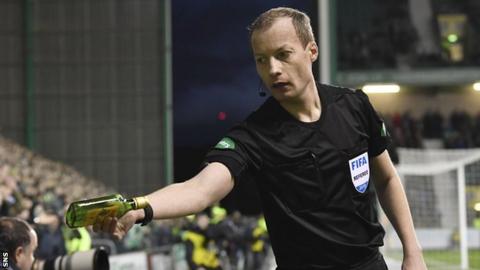 Only one club in Scotland has been sanctioned for unacceptable conduct in the past 10 years.
The Scottish FA and the Scottish Professional Football League are to introduce new measures this week to tackle unacceptable conduct among supporters.
However, despite promises to get tough in the past, no club has been fined.
One measure being considered is to give clubs the power to apply for banning orders that would cover all stadiums.
Motherwell were put on two-year probation following trouble during and after their league play-off match against Rangers in 2015.
Under the current rules, clubs will escape punishment if they can prove that all reasonable measures have been taken to prevent trouble, but many believe that doesn't go far enough.
The SPFL chief executive Neil Doncaster and Ian Maxwell from the SFA met yesterday to discuss new tougher proposals, but it's understood a zero tolerance approach, including points deductions and partial stadium closures, won't be introduced.
League rules state clubs will escape punishment if they can prove all practicable steps were taken to prevent unacceptable conduct.