Bolton Wanderers' game against Ipswich on Saturday still in doubt
Last updated on .From the section Bolton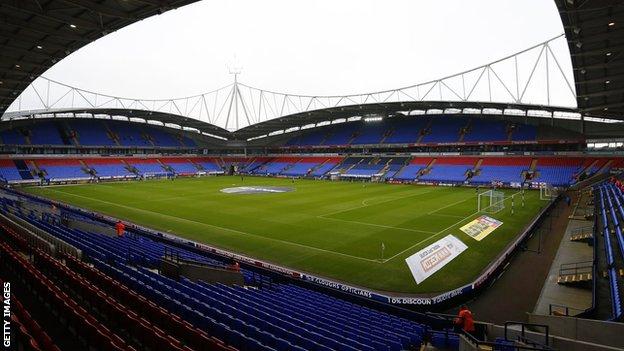 It is still unclear as to whether Bolton's Championship game against Ipswich Town on Saturday will go ahead.
The region's Safety Advisory Group held an emergency meeting on Wednesday after it issued a ban on supporters entering Wanderers' stadium for their next two home games.
A further update is expected on Thursday.
Bolton's staff and squad are still waiting for March's wages, which were due to be paid last Friday.
Players went on a 48-hour strike on Monday in support of the club's workers, who were also not paid on time in February.
It is understood Saturday's game against bottom side Ipswich, a key match in Bolton's battle to avoid relegation, could go ahead providing adequate staffing numbers at the University of Bolton Stadium are met.
Ipswich tweeted on Wednesday: "As things stand, Town's trip to Bolton on Saturday is ON. A further update and confirmation is expected tomorrow."
Victory could take Phil Parkinson's Bolton team to within two points of safety.
High Court appearance
Earlier on Wednesday, up-for-sale Wanderers were given a further five weeks to settle their debts or risk going into administration.
Lawyers for the financially stricken club, who appeared in the High Court for the second time over an unpaid £1.2m tax bill, said terms for the sale of Wanderers have been agreed and due diligence is under way.
They have withheld the identity of the prospective buyer, but were given until 8 May to pay the outstanding sum.
Former Watford chairman Laurence Bassini is reported to have been at the hearing, where the club's barrister Hilary Stonefrost told the court: "The prospective purchaser is here."
She added that Bassini, whose controversial tenure at Vicarage Road lasted only 13 months, "has proof of funds".
Bassini declined to comment before he was driven away from the court in a Rolls-Royce, reports the Press Association.
Anderson blames players
Bolton owner and chairman Ken Anderson - who in a statement said he was "grateful" the High Court granted him time to sell his shares - ruled out reports that Gaspard Holdings, whose sole registered director is Naeema Khilji, are poised to take over the club.
Bolton's future has become increasingly uncertain this season, with Wednesday's court appearance their seventh over a winding-up petition in the past 17 months.
The protracted sale of the club, which was said to be near completion last week, has delayed the payment of wages.
Anderson said "everyone at the club is doing everything possible" to ensure the games go ahead, but shifted blame on to the players if there is a postponement.
"This may now depend on whether the players see sense and stay loyal to the supporters and season ticket holders and return to full training tomorrow," he said on Wednesday.
Anderson went on to say the club has a "good chance" of avoiding relegation and that he had been vindicated for not placing the club into voluntary administration.
"My decision not to place the club in administration and incur a 12-point deduction was the correct one," he added.
"If l had have placed the club in administration, it would have meant that the club would have incurred a 12-point deduction either this season or next, depending on the timing, and my aim is and always will be to try and ensure that this did not happen for obvious reasons."