Tottenham 1-1 Arsenal: Aaron Ramsey shows what Gunners will be missing when he leaves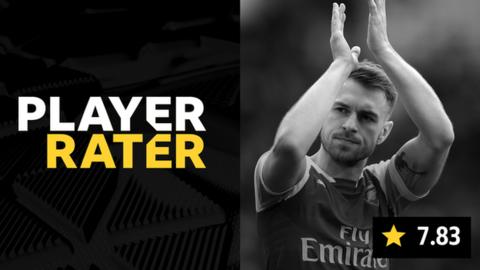 As Arsenal plan for life without Aaron Ramsey, the midfielder's performance in his final north London derby was a reminder of the hole he will leave when he departs for Juventus in the summer.
The Welshman came out on top of the ratings given by BBC Sport readers (below), even though his first-half goal ultimately only helped his side to a point in a 1-1 draw at Wembley against Tottenham.
Harry Kane's second-half penalty cancelled out Ramsey's 16th-minute strike before Pierre-Emerick Aubameyang had a late penalty saved by Hugo Lloris.
It meant the 28-year-old's final appearance in this fixture did not end in the wild celebrations he might have hoped for, but it was still a performance to highlight what he has brought to the club during his 11 years in north London.
'Ramsey performance gives Arsenal pleasure - and pain'
Chief football writer Phil McNulty
Aaron Ramsey used the Wembley stage that has become his playground to demonstrate what Arsenal will be missing when he leaves for Turin on a free transfer at the end of the season.
He will be best remembered at the club for his winning goal in the 2014 FA Cup final against Hull City and his repetition of that feat in the 2017 showpiece against Chelsea.
And the 28-year-old Welshman showcased the all-round quality that Arsenal have allowed to get away in the heat of north London derby battle against Tottenham.
Ramsey has always had an eye for goal and he was calm and quality personified as he raced clear of Davinson Sanchez to round Hugo Lloris to give Arsenal the lead.
This was the crowning moment of his performance but Ramsey was industrious, competitive and showed the class that makes it all the more mysterious that he is the latest player to be allowed to escape the net at Arsenal as his contract has run down and no final agreement could be reached.
It might almost be human nature for a player to have one eye on his next, highly lucrative destination once that move has been sealed and made public, as Ramsey's switch to Turin has been, but his attitude and approach was faultless. Ramsey's full focus was on Arsenal and how it showed.
He was at the forefront as they fought to maintain the lead he had given them, storming into tackles, disputing decisions and making the intelligent contributions on and off the ball that have characterised his time at Arsenal.
And there do not appear to be any hard feelings from fans either as he was given a deserved and rousing ovation when he was replaced by Mesut Ozil with 18 minutes left.
Ramsey will be central to Arsenal and manager Unai Emery's hopes of reaching the top four and when lavish contracts were being handed to under-achieving and often absent players such as Ozil, it is hard to see how the Gunners have got themselves into a position where Ramsey is walking away.
The interest of Juventus, and of course the financial structure of the deal, make it easy to see why the Italian giants were interested and why he was keen to accept their invitation.
Ramsey's influence on Arsenal's performance here will have given them much pleasure - but also pain as they realise how hard he will be to replace.
How you rated the players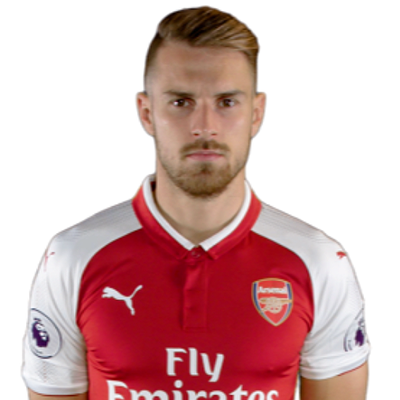 Player of the match
RamseyAaron Ramsey
Tottenham Hotspur
Squad number

1

Player name

Lloris

Squad number

7

Player name

Son Heung-Min

Squad number

23

Player name

Eriksen

Squad number

5

Player name

Vertonghen

Squad number

11

Player name

Lamela

Squad number

17

Player name

Sissoko

Squad number

10

Player name

Kane

Squad number

4

Player name

Alderweireld

Squad number

18

Player name

Llorente

Squad number

2

Player name

Trippier

Squad number

3

Player name

Rose

Squad number

12

Player name

Wanyama

Squad number

6

Player name

D Sánchez
Arsenal
Squad number

8

Player name

Ramsey

Squad number

19

Player name

Leno

Squad number

5

Player name

Sokratis

Squad number

7

Player name

Mkhitaryan

Squad number

6

Player name

Koscielny

Squad number

17

Player name

Iwobi

Squad number

18

Player name

Monreal

Squad number

9

Player name

Lacazette

Squad number

29

Player name

Guendouzi

Squad number

34

Player name

Xhaka

Squad number

20

Player name

Mustafi

Squad number

11

Player name

Torreira

Squad number

10

Player name

Özil

Squad number

14

Player name

Aubameyang