Eric Harrison: Former Manchester United youth coach and Class of '92 mentor dies aged 81
Last updated on .From the section Man Utd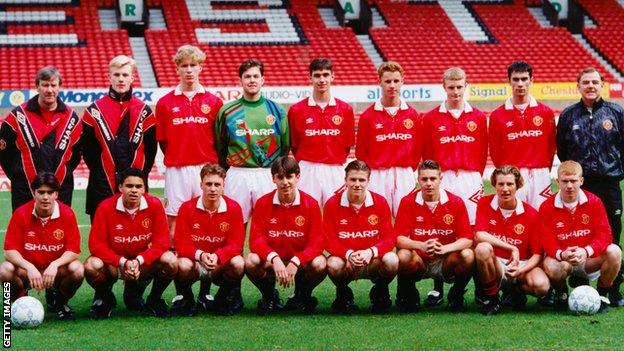 Sir Alex Ferguson says Eric Harrison was "one of the greatest coaches of our time" following the death of the former Manchester United youth coach, credited with developing their 'Class of '92'.
Harrison, 81, who was diagnosed with dementia four years ago, passed away peacefully with his family by his side.
After playing at Halifax, Hartlepool, Barrow and Southport, Harrison became youth team manager in 1981.
He led United to FA Youth Cup victories in 1992 and 1995.
Harrison was awarded an MBE for services to football in 2017 and Ferguson praised his ability to "make good human beings" out of young players.
Ferguson, who revamped United's scouting network following his appointment as manager in 1986, added: "On a personal level Eric had a wicked dry sense of humour and was straight talking and I admired that in him.
"When I came as manager I was lucky enough to have Eric on the staff as head of youth development, so I got to see the work he did and not just with the Class of 92 but with all the young players.
"He built character and determination in those young players and prepared them for the future. He was a teacher, he gave these players a path, a choice and he only did that through his own hard work and sacrifice.
"He was able to impart that education to the young which made him one of the greatest coaches of our time."
Manchester United said it was "deeply saddened" by Harrison's passing.
"Our thoughts and prayers go out to Eric's family and friends at this sad and difficult time," it added.
'No more Hollywood passes'- Beckham
The Professional Footballers' Association said Harrison was "one of the game's great teachers".
In 1992, his United side won the FA Youth Cup with what is regarded as one of the best crop of young players in the English game.
Gary Neville, David Beckham and Nicky Butt all went on to have long careers with Manchester United and England. Ryan Giggs and Robbie Savage went on to play for Wales, although Savage did not play a professional game for the Red Devils and moved to Crewe in 1994.
"I can still hear him telling me 'no more Hollywood passes'," said Beckham.
"I can still see him as we played on The Cliff training ground looking down on us either with a proud smile or a loud bang of his fist on the window knowing any minute he would be on his way down to probably advise me in the most polite way to stop playing those passes.
"More importantly he made us understand how to work hard and respect each other and not just on the pitch. We won't forget the life lessons he gave us. Eric we love you and owe you everything."
'A second father' - Phil Neville
A year after the Youth Cup success, Neville, Beckham and Savage were joined by Paul Scholes, Phil Neville and Keith Gillespie in the team that lost in the final against Leeds.
In 1995, a United team captained by Phil Neville and coached by Harrison won the Youth Cup again.
"He was like a second father," Phil Neville told BBC Radio 5 live.
"On and off the pitch, the way you spoke to the canteen ladies, the kit man, the way you dressed, your time-keeping - they were values that stood us in good stead for the rest of our lives.
"I'm a manager now and the standards that I try and give my players are the standards he taught me and I'll be forever indebted to him.
"He was a truly remarkable man and I personally owe him everything."
Gary Neville said: "We've lost our mentor, our coach and the man who made us."
"He taught us how to play, how to never give up, how important it was to win your individual battles and what we needed to do to play for Manchester United Football Club. Eric we owe you everything."
Ex-Manchester United, Leicester, Blackburn and Wales midfielder Savage revealed he still has a letter Harrison sent him which encouraged him not to give up when he was released by Manchester United.
"Eric, along with my family, was the reason I didn't and to this day I will always be so thankful to Eric," said Savage.
'A great, tough coach' - Giggs
Mark Hughes, Norman Whiteside, Clayton Blackmore and Graeme Hogg also became internationals after playing in a United FA Youth Cup final side managed by Harrison.
In total Harrison spent 27 years at Old Trafford and also spent four years as Wales assistant manager under Hughes.
Wales' current manager Giggs said: "I've known Eric since I was 13 and he was a big part of my career early on. A great man and a tough coach, he instilled in us the principles of the game that we've carried for life.
"He loved going away with Wales under Mark Hughes' tenure and without a doubt is one of the biggest influences on my career."
Former Wales striker John Hartson also worked with Harrison and in a tweet, described him as "a lovely man".