Man Utd 0-2 PSG: How did you rate the players in the Champions League?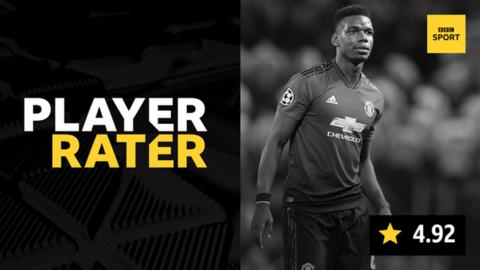 Manchester United face a tough task to progress after they were well beaten by Paris St-Germain in the first leg of their Champions League last 16 tie at Old Trafford.
Kylian Mbappe scored PSG's second goal and secured top spot in your player rater. It was not such a good night for Paul Pogba though, who was sent off for two yellow cards in the closing stages.
Player of the match
MbappéKylian Mbappé
Manchester United
Squad number

1

Player name

De Gea

Squad number

31

Player name

Matic

Squad number

10

Player name

Rashford

Squad number

21

Player name

Herrera

Squad number

6

Player name

Pogba

Squad number

14

Player name

Lingard

Squad number

23

Player name

Shaw

Squad number

2

Player name

Lindelöf

Squad number

3

Player name

Bailly

Squad number

11

Player name

Martial

Squad number

18

Player name

Young

Squad number

8

Player name

Mata

Squad number

7

Player name

Sánchez

Squad number

9

Player name

Lukaku
Paris Saint Germain
Squad number

7

Player name

Mbappé

Squad number

2

Player name

Thiago Silva

Squad number

11

Player name

Di María

Squad number

6

Player name

Verratti

Squad number

5

Player name

Marquinhos

Squad number

23

Player name

Draxler

Squad number

8

Player name

Paredes

Squad number

1

Player name

Buffon

Squad number

13

Player name

Dani Alves

Squad number

14

Player name

Bernat

Squad number

3

Player name

Kimpembe

Squad number

31

Player name

Dagba

Squad number

4

Player name

Kehrer