Fifa: Former Thailand FA president Worawi Makudi has ban overturned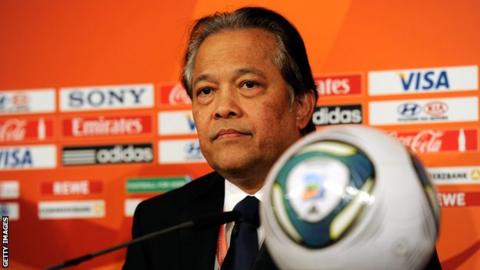 A former Fifa executive member has had his ban from football overturned by the Court of Arbitration for Sport (Cas).
Worawi Makudi, the former president of the Football Association of Thailand (Fat), was banned for five years in 2016 after Fifa said he committed "forgery and falsification".
Fifa's appeal committee reduced the ban to three and a half years but Makudi also appealed against that sentence.
Cas cancelled the ban from all football-related activities on Monday.
It said "on the basis of the evidence available" that Makudi, 67, did not infringe article 17 of the Fifa code of ethics - "forgery and falsification".
The panel noted that Makudi presented "additional witnesses and new information" during the Cas proceedings that was not available to football's world governing body during its investigation and that the information "could have resulted in different decisions".
Makudi was also fined 10,000 Swiss francs (£7,743) in 2016 and found to have infringed article 41 - "obligation of the parties to collaborate".
Cas confirmed that breach but said it was to a lesser degree than Fifa's ethics committee had ruled.
The panel issued Makudi a reprimand and reduced his fine to 5,000 Swiss francs (£3,872).