Lee Peltier: Southampton win is 'massive' for Cardiff City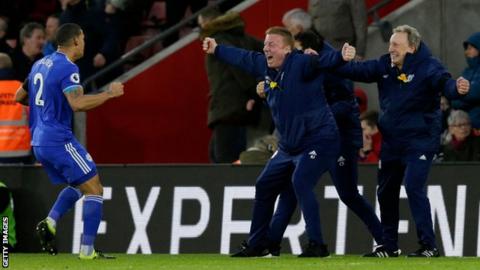 Cardiff City's victory against relegation rivals Southampton was a "massive" result for the Bluebirds according to full-back Lee Peltier.
Cardiff's 2-1 win at St Mary's was only their second away from home this season and moved them up to 16th.
The Bluebirds have now won back-to-back top-flight games for the first time since 1962 following a difficult period dealing with Emiliano Sala's death.
"We've won the last two which is massive," said the 32-year-old.
"I thought we've been playing well over the past few weeks, especially under the circumstances we have had to deal with, so it was a great win for us."
Cardiff boss Warnock dedicated Saturday's win to Emiliano Sala after police confirmed the 28-year-old record-signing died in the plane crash in January.
"It's been really tough, everyone at the club has felt really down with what has happened and obviously the boys have been really sad," added Peltier.
"It is devastating and hard to describe because it has never happened to any of us before.
"It's so sad and it has been really hard to concentrate on football."
Ready for a break
The Bluebirds now have a 12-day break before their next match, against Watford at the Cardiff City Stadium on 22 January.
The break is a much-needed one for the Cardiff squad according to Peltier, after what has been a difficult month for everyone at the club.
"You never know what is around the corner, it gets everyone thinking, so having a few days off it will be nice to spent it with family," said Peltier.
"It's always nice to have a break, the whole squad has put everything into the past few games.
"I think the fans can see what the lads have put in so it will be nice to have a few days off."