Nathaniel MG Cup final: Cambrian & Clydach Vale BGC 0-2 Cardiff Met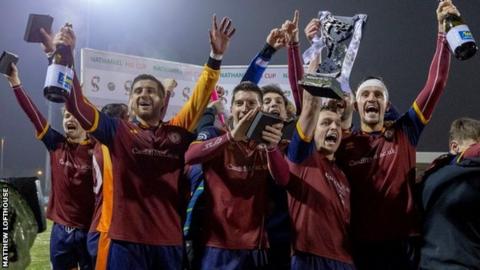 Cardiff Met have won the Nathaniel MG Cup after beating Welsh League Division One Cambrian & Clydach Vale Boys and Girls Club 2-0 at Jenner Park.
Adam Roscrow gave the Students the lead after 40 minutes as the Welsh Premier side asserted their dominance.
Cambrian & Clydach came close to an equaliser on 55 minutes but Alex Lang saved Sam Jones' shot at full stretch.
The Division One side kept pushing for an equaliser, but Roscrow scored again late on to put the result beyond doubt.
For the Students it was relief after they lost last year's final against The New Saints.
But for Cambrian & Clydach it was not to be, despite pushing their Welsh Premier opponents all the way in a tight encounter.
Cardiff Met director of football Christian Edwards told S4C's Sgorio: "I'm just glad we've got rid of the nearly man tag. We've finally got a big trophy in the cabinet.
"We weren't as fluid today as we have been in the last three or four matches. I think the nerves got to the boys.
"I'm really pleased for the boys and I'm really pleased for my coaching staff as well because they've put a lot of work in.
"But what a fantastic journey for Cambrian & Clydach. They've been an absolute credit to the league they play in."