Man arrested after Arsenal bus protest before FA Cup tie against Blackpool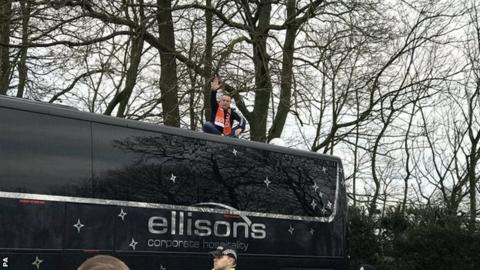 A man was arrested after Arsenal's team bus was prevented from travelling to their FA Cup tie against Blackpool.
A protesting Blackpool fan sat on top of the coach as it waited to depart the Preston Marriott Hotel, causing the club to take alternative transport.
Lancashire Police said the supporter "was spoken to by officers and came down after around 40 minutes".
A man was later arrested "on suspicion of an offence under the Trade Union Act".
The match kicked off as scheduled at 17:30 GMT, with Arsenal winning 3-0.
Many Blackpool fans have stayed away from home games in protest at how the Oyston family runs the club.
Only 3,777 home fans were present for Saturday's third-round tie, added to Arsenal's travelling support of 5,218, which meant Bloomfield Road was half-empty.
Arsenal travelled in a replacement vehicle and entered the stadium via a back entrance, with more protesting supporters outside the main door.
Asked if the protest had affected Arsenal's preparations, manager Unai Emery said: "There was no change us. We know there are some problems here with the supporters and the team.
"We have respect for them - the supporters, the club, the team - and we prepared for the match with respect also for this competition."
Chair of the Blackpool supporters trust Christine Seddon told BBC Sport before the game: "We're very pleased so few tickets have been sold. It shows the boycott is holding.
"We'll be outside the ground - like we are at every home game - as a symbolic presence to show we haven't abandoned the club.
"It is drastic, but it is the owners that have damaged the club over many, many years. So we believe our campaign is the best way to secure the future of our club, because the only way it can survive is if [Owen] Oyston leaves it - there is no future for the club while he remains there.
"It's heartbreaking for lifelong supporters to have to do this, and we've been doing it since 2015."