Chesterfield set to appoint John Sheridan after Carlisle United resignation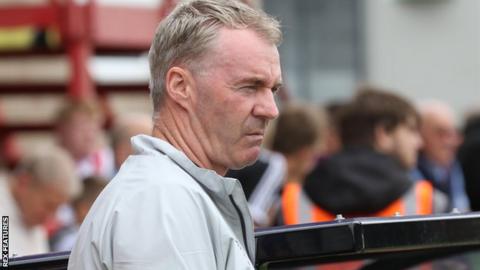 John Sheridan is set to return to Chesterfield as manager after leaving Carlisle, BBC Radio Sheffield reports.
The 54-year-old resigned as Carlisle boss on Friday after seven months in charge, leaving them seventh in League Two following five straight victories.
Chesterfield are in the National League drop zone, but Sheridan will replace Martin Allen to become the highest-paid boss across the fourth and fifth tiers.
He is likely to sign until 2022 after Saturday's game against Ebbsfleet.
Former Oldham and Fleetwood manager Sheridan led the Spireites to the League Two title in 2011, but left after their relegation from League One the following season.
Sheridan was appointed by Carlisle in June, succeeding Keith Curle who resigned at the end of last season.
"The request to leave came from John," Carlisle chairman Andrew Jenkins said in a statement on the club website.
"The board and John had discussed football squad matters, and these were being resolved."
Assistant manager Tommy Wright and first team coach Paul Murray will take charge of Carlisle's league match against Mansfield on Saturday, with the support of director of football David Holdsworth.
Resignation threat
Despite recording the club's biggest win of the season on Boxing Day, Sheridan cut an unhappy figure after the match, suggesting all was not right behind the scenes.
In an interview after the Oldham win he told the club's official YouTube channel he could be considering his position.
"I'm not going to start judging myself in the way I'm managing and people looking at me as if I don't know how to manage; I'll carry on with what I'm doing," he said.
"If people don't like it, I'll leave.
"The players get a lot of freedom from me, a lot of perks on the other side, they need to respect where I'm coming from, and if they don't - and I'm getting sick and tired of it - then they can go, or I'll go."
John Sheridan's managerial roles
2001 - Oldham Athletic (caretaker)
2016 - Oldham Athletic
2003-2004 - Oldham Athletic (caretaker)
2016-2017 - Notts County
2006-2009 - Oldham Athletic
2017 - Oldham Athletic
2009-2012 - Chesterfield
2018 - Fleetwood Town
2013-2015 - Plymouth Argyle
2018 - Carlisle United
2015-2016 - Newport County
Jenkins added in his statement: "In his short time at United, John has made a positive difference to the club.
"He has improved the style of football and assembled a squad that is able to compete with the best teams in League Two.
"Working with the squad and management team, he has helped to establish a winning formula at the club that we will take forward and build on to ensure that John's hard work is not lost."