Arsenal investigate anti-Semitism during Tottenham Hotspur game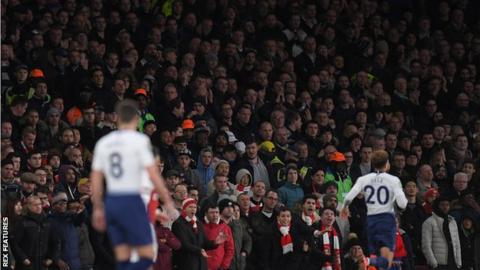 Arsenal are investigating allegations of anti-Semitic behaviour by their fans during Wednesday's game with north London rivals Tottenham.
Spurs won the Carabao Cup quarter-final 2-0, with goalscorer Dele Alli being hit by a plastic bottle thrown from the home section in a separate incident.
Now Arsenal are also looking into alleged offensive chants and gestures at Emirates Stadium.
"We are aware and are currently investigating," a club statement said.
"We do not tolerate any anti-social, discriminatory or violent behaviour at Arsenal Football Club. Anyone identified will receive a lengthy club ban and their details will be passed to the police to commence legal proceedings."
Tottenham have a historical association with London's Jewish community, and their fans regularly use the Y-word.
London neighbours Chelsea have been highly critical of some their fans for singing offensive chants about Jewish people in recent weeks.
Arsenal, meanwhile, have said they will ban the person who threw a bottle at Alli.
Earlier on Thursday, Arsenal and Spurs were fined £45,000 and £50,000 respectively for failing to control their players in a Premier League game on 2 December.