Barcelona scrap plans to face Girona in Miami in January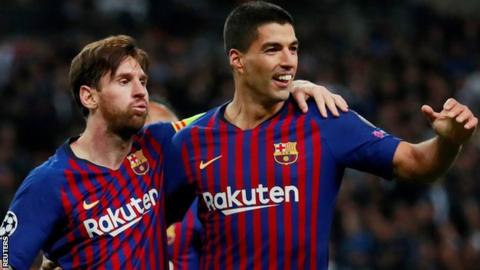 Barcelona have abandoned plans to play a La Liga fixture against Girona in Miami due to a "lack of consensus".
The Catalan club had proposed the 26 January fixture would take place in the US city and had support from La Liga.
But the Spanish Football Association (RFEF) and players' union (AFE) were vocal in objecting to the move.
Barca said it had "agreed to withdraw" the proposal, adding: "This project will not prosper until there is agreement between all parties."
A club statement added: "FC Barcelona were and remain willing to play a La Liga game in Miami, and accepted that income from the game would be shared among all Primera Division and Segunda Division clubs, following the same criteria of television rights money distribution."
La Liga has signed to play one game a season in the US as part of a 15-year deal with media company Relevent. Catalan neighbours Girona and Barcelona had agreed to move their game to the Hard Rock Stadium.
La Liga said it was still planning to stage a league match outside Spain.
"We regret to disappoint our fans in the US and will work to, in the shortest possible time, stage an official La Liga game in the US," a statement read.
"La Liga will continue the planned action so an official game can be played outside of Spain."
The Spanish top flight had filed a lawsuit with a civil court in Madrid in a bid to force the RFEF to approve the match, while David Aganzo - president of the country's players' union - believed the fixture would not go ahead in 2019 but could be "possible" in the future.
The match also needed the approval of Uefa, US Soccer and the Confederation of North, Central American and Caribbean Association Football (Concacaf).
La Liga had previously said it would go to the Court of Arbitration for Sport if Uefa blocked the move.