Raheem Sterling: Manchester City forward says newspapers 'fuel racism' in football
By Katie Falkingham & Mantej Mann
BBC Sport
Last updated on .From the section Man City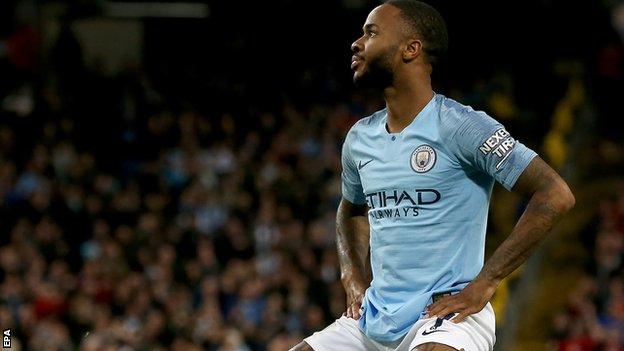 Newspapers are helping to "fuel racism" by the ways in which they portray young black footballers, says Manchester City forward Raheem Sterling.
Sterling, 24, posted on social media a day after suffering alleged racist abuse from Chelsea fans during City's 2-0 defeat at Stamford Bridge.
Chelsea and the Metropolitan Police are investigating the allegations.
"All I have to say is have a second thought about fair publicity and give all players an equal chance," he said.
In a post on Instagram, Sterling said he "had to laugh" when he heard the alleged racist remarks during the game because he expects "no better".
The Football Association said on Sunday it would support the investigations.
Racism in football: Have you been a victim? Have you witnessed it? Or have you ever been punished for racial abuse at football - what happened? Get

in touch here
On Saturday, police in Scotland arrested two fans for allegedly directing racial abuse at Motherwell substitute Christian Mbulu during his side's defeat at Hearts.
In his post, England international Sterling cites newspaper headlines about team-mates Tosin Adarabioyo and Phil Foden buying houses.
The headline referring to 21-year-old defender Adarabioyo - who is on loan at West Brom - focuses on how he spent £2.25m on a property "despite having never started a Premier League match".
By contrast, midfielder Foden, 18, "buys a £2m home for his mum" and is later described as having "set up a future".
"You have two young players starting out their careers - both play for the same team, both have done the right thing, which is buy a new house for their mothers who have put in a lot of time and love into helping them get where they are," Sterling said.
"But look at how the newspapers get their message across for the young black player and then for the young white player.
"I think this is unacceptable, both innocent, have not done a thing wrong but just by the way it has been worded, this young black kid is looked at in a bad light, which helps fuel racism and aggressive behaviour."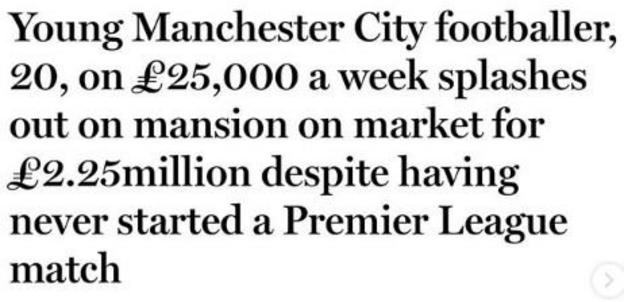 Newspapers v Sterling
Sterling has frequently found himself at the centre of attention throughout his career, most recently for a tattoo of a rifle on his leg earlier this year.
He later defended the tattoo, saying it had a "deeper meaning" and referred to his late father, who was killed in Kingston, Jamaica.
That followed criticism for proposing to his girlfriend, purchasing clothes at high-street chain Primark, and for buying his mother a house.
In June, in a piece with the Players' Tribune, he said he no longer worried about criticism of his lifestyle
The Black Collective of Media in Sport (BCOMS) said it hoped Sterling's comments would "serve as a wake-up call not just for the newspapers, but all the media".
A statement read: "BCOMS stands with Raheem Sterling and thanks him for raising the issue of how the media portrays black footballers and communities across the country."
'There is no leadership at the top of the game' - Kick it Out
Lord Ouseley, the founder of anti-discrimination body Kick it Out, has called for leaders in football to deal with racism "at the top".
"What happened at Chelsea shows what is still going on in football," he told BBC Sport.
"Where is [Premier League chief executive] Richard Scudamore, where is [FA chairman] Greg Clarke, where is Chelsea's chairman [Bruce Buck] - they should have been talking out last night and it has to be dealt with at the top.
"We do not have any leadership at the top of the game to speak out, they just rely on Kick it Out.
"The print media often targets all footballers, not just black players, but we have already made comments about the way Raheem Sterling has been treated differently by the media.
"He has received bad press over the last few years because of his lifestyle and clearly there are issues from potential stories adding to prejudice and I have every sympathy for him.
"It was awful, but it didn't appear to me that Raheem told the referee in the first place. Players know if they are abused in any way they have to tell the referee. All players know the referee is in charge and has a duty of care, and the referee can remove those people."
Many players and pundits have been on social media to condemn the alleged racist abuse aimed at Sterling, with Match of the Day host Gary Lineker calling it "despicable".
"Are we going to continue to allow this type of racist behaviour go on?" asked former Manchester United and England defender Rio Ferdinand, while Match of the Day pundit Ian Wright said "the bad old days are back".
Former England and Arsenal Women forward Alex Scott told BBC 5 live: "No-one should expect any form of discrimination, racism and the fact that no matter how strong of a character you are, you can only take so much, so for him to come out now and speak, enough is enough.
"No-one should have to go through what he's been going through. No one."
On Sunday, an FA spokesperson said: "We take all allegations of discrimination extremely seriously and will work with the clubs and the relevant authorities to ensure this matter is dealt with appropriately.
"We strongly condemn all forms of discrimination and encourage all fans and participants who believe that they have been the subject of, or witness to, discriminatory abuse to report it through the appropriate channels: the FA, our county FAs or our partners Kick It Out."
The Premier League also issued a statement, saying: "The club and the police are rightly investigating this serious matter.
"The Premier League and the clubs are opposed to all forms of discrimination in football and if anyone is found to have racially abused a Premier League player they deserve to be punished. We will support any action taken by the club or the authorities."