Tokyo Olympics: Scottish FA will not block Team GB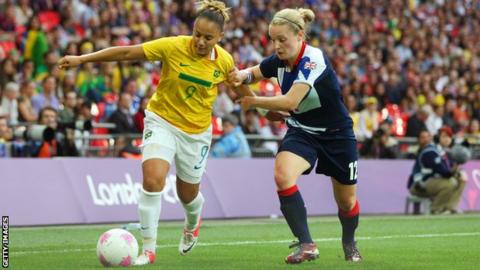 The Scottish FA has decided not to stand in the way of a British women's team at the next Olympics, but will not actively support or promote it.
A decision was reached after lengthy debate at a board meeting on Thursday.
That was despite a number of board members voicing a desire to block the team, BBC Scotland understands.
The Scottish FA will make no attempt to prevent players being part of Team GB if they want participate but the idea will be reviewed after Tokyo.
The decision means England's performance at the World Cup finals in France will determine if Team GB earn one of the four European spots for Tokyo 2020.
Scotland will also play in next summer's tournament, but their progress will have no bearing on qualification.
Scots Kim Little and Ifeome Dieke both turned out in GB colours at London 2012 in a team dominated by England players.
In a statement, the Scottish FA reiterated that their "focus" is the World Cup, noting it "will remain the pinnacle of women's and men's football".
It added: "The position of the Scottish FA on the subject of Team GB is well-documented and our preference remains that all organised international football involving Scottish players should be played under the Scotland banner.
"In relation to the 2020 Olympic Games, the Scottish FA, along with the other home nations, agreed a proposal to allow an English-led British women's football team to participate in Tokyo."
'Scottish FA felt they had little choice' - analysis
This was always going to be a tricky call for the Scottish FA. Privately, and to an extent publicly, they want nothing to do with this. But in order to maintain good relations with the FA, Fifa and the IOC, they felt they had little choice.
Those on the board who are appalled at the notion of a Team GB argued their case but in the end, had to relent. There may have been some horse trading with a possible joint World Cup 2030 bid in mind, but I'd be surprised if we see another Team GB football team after Tokyo.