Kilmarnock: 'I'd have said to Steve Clarke to get out in summer' - Burley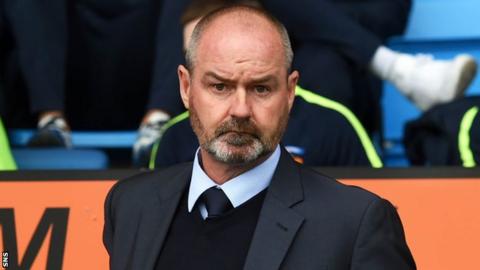 Former Scotland midfielder Craig Burley would have advised Steve Clarke to "get out" of Kilmarnock in the summer because eclipsing last season's fifth-place finish was impossible.
Clarke took over in October 2017 with the Ayrshire side bottom of the league and led them to a place in the top six.
Now, the Rugby Park club top the Scottish Premiership by a point.
"I'd have said get out in the summer because it can only go downhill," Ayrshire native Burley said.
"This is an unbelievable story. It can only be man-management. To take this team to the top of the league in December after what he did last year, from where they were, is one of the best achievements in recent Scottish football history."
Clarke coached at Newcastle United, Chelsea, West Ham United and Liverpool before taking his first manager's job at West Bromwich Albion in 2012.
Burley, who played with Clarke at Chelsea, believes it is inevitable that his former team-mate will "move back up the ladder" at some point.
"I would never have imagined having taken that job that he'd have been able to put himself at the forefront for every big job that comes up in Scotland, and with teams in the Premier League," he added.
Saturday's opponents and Scottish champions Celtic pay their players more than 13 times Kilmarnock's average annual salary of £62,816, which is the seventh-highest figure in the Premiership.
Yet Brendan Rodgers' men, a point behind the Ayrshire side with two games in hand, have not beaten Kilmarnock in Clarke's tenure.
Pat Nevin, another former Chelsea colleague of Clarke's, believes the Ayrshire side winning the title would top Leicester City's incredible Premier League triumph in 2016.
"The best thing you can do as a manager is maximise the potential of people you've got there. Very, very simple to say. Very, very hard to do," he added.
"And Steve can actually organise teams. No square pegs in round holes, know the capabilities and weaknesses of your players, know where you can put them so those weaknesses won't be shown up
"All those things seem simple, but it's amazing how many managers don't do it."