Jose Mourinho: Manchester United boss happy at club, says agent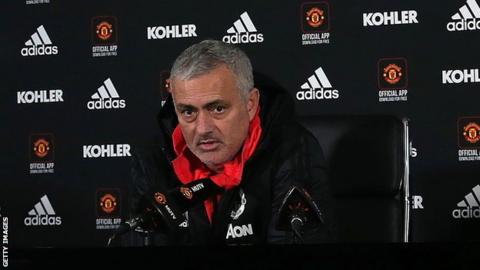 Manchester United manager Jose Mourinho is "very happy" and "fully committed" to the club, according to his agent.
Mourinho's position at the club has been under scrutiny this season, with the Red Devils eighth in the Premier League, eight points off the top four.
The Portuguese, 55, signed a contract extension at Old Trafford in January but has been linked with a return to former club Real Madrid.
"It's totally untrue," said agent Jorge Mendes in a statement.
"Jose is very happy at the club and the club is very happy with him. He has a long-term contract with Manchester United and is fully committed to the club in building a solid winning project."
While Mourinho has been linked with Real, there have also been media reports suggesting United are considering bringing in Tottenham manager Mauricio Pochettino to succeed him.
United play Fulham at home on Saturday before trips to Valencia in the Champions League on Wednesday, and Liverpool in the league on 16 December.
Analysis
Simon Stone, BBC football correspondent
Jorge Mendes rarely talks in public, so there is huge significance around the statement that has been released on his behalf.
The big question is what the significance actually is.
The statement itself comes on a day when a report claimed Manchester United had identified Tottenham's Mauricio Pochettino as Mourinho's replacement.
Did Mourinho ask for a vote of confidence, or has his camp taken it upon themselves to underline the former Chelsea, Inter Milan and Real Madrid boss is under a contract, a very lucrative contract of around £15m-a-year, which was extended as recently as January meaning it runs to 2020?
It is hard to believe United, who have not approached Tottenham, agree with the wording of the statement itself given it contains the assertion that they "are very happy" with Mourinho.
Given United go into this weekend's fixtures eighth in the Premier League, 18 points behind leaders Manchester City and 14 in front of the drop zone, having collected just three points from their past four games, I can't imagine anyone, including Mourinho, can be very happy at the moment.
And given the turbulence around Mourinho, it does not feel like the kind of statement that will end speculation about a potential dismissal, which has ebbed and flowed like a strong tide since United began their pre-season campaign back in July.
Anything other than a victory over rock-bottom Fulham at Old Trafford on Saturday and the noise around Mourinho will intensify significantly, and no end of statements from Mendes will change that.