Jim McGuinness: Former Donegal boss lands USL coaching role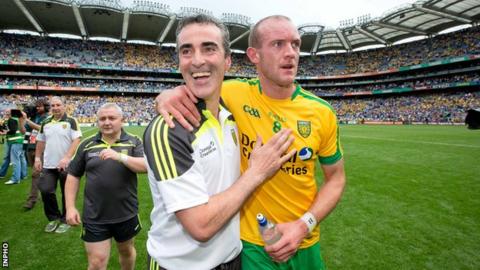 Former Donegal manager Jim McGuinness has been appointed as head coach of United Soccer League side Charlotte Independence.
McGuinness previously spent time as a performance consultant with Celtic before joining Chinese club Beijing Sinobo Guoan as assistant coach.
It is the Glenties native's first head coaching position outside of Gaelic football.
He has joined the second-tier US side on a three-year deal.
"I think I've learned a huge amount and tried to be studious in my application from the very first day I walked into Celtic from my experiences of all the managers I worked under," he said.
"At the same time I was trying to build a picture in my own mind of how I saw the game and of how I would like the game to be whenever I became a manager.
The other side of that coin is that if you leave the philosophical side of things out of it: football is about people and life is about people."
He spent less than a year with Sinobo, citing family reasons upon leaving the role in January this year.
McGuinness led Donegal to just their second All-Ireland title in 2012 before losing in the final to Kerry two years later, after which he left the role.
His new role in North Carolina sees McGuinness taking over the reigns at a club that finished 11th in the USL's Eastern Conference in the 2018 season.
The new head coach will now focus on building a squad before next year's campaign gets underway in March.