Plymouth Argyle chairman Simon Hallett hails 'wonderful' boss Derek Adams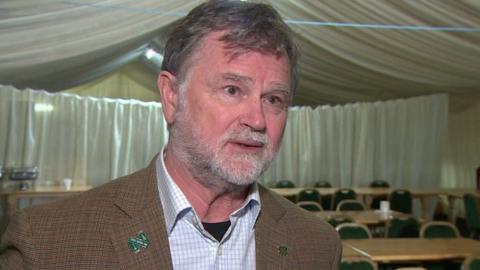 New Plymouth Argyle chairman Simon Hallett says manager Derek Adams is 'wonderful' and his job is not under threat despite poor recent results.
The Pilgrims are five points from safety in the League One relegation places and are out of the FA Cup.
"It's not just about results on the pitch," Hallett told BBC Radio Devon.
"While we're struggling a little in League One, Derek's the third most successful manager in Argyle's history in terms of win to loss ratios."
He continued: "He's the same bloke he was last year, the same bloke he was three years ago, so with Derek it's not just what you see on the pitch, it's what you see behind the scenes and Derek sets standards throughout the club that we want everybody to adopt."
Managing budgets
Lifelong Argyle fan Hallett took over from James Brent at Argyle on 1 November after securing a 64% stake in the club.
He says Adams is welcome to approach the board if he feels he needs more money to bolster his squad in January, something the manager is against.
"It's not my job to go and ask for more money, it's just not me," Adams told BBC Radio Devon.
"If more resources are found for me then I'll accept it, but I don't go grovelling to anybody for anything, I work with what I've got and do the best I can."
Adams does have some spare money in his budget and he is expected to move some of his squad out of Home Park when the transfer window reopens on New Year's Day.
But with Home Park currently undergoing a major redevelopment project, the Scot is aware that finances are tight.
"We've got to understand that there's not a bottomless pot at the football club, but we'll try and do our best with what we've got," added the former Ross County manager, who took over at Argyle in the summer of 2015.
"I always have done that through my managerial career, I've been given a budget to work to and I do that.
"What we can afford is what we can afford, and I try to do the best we can with that."