Courtney Wildin: Leukaemia diagnosis for Coalville's Antigua and Barbuda defender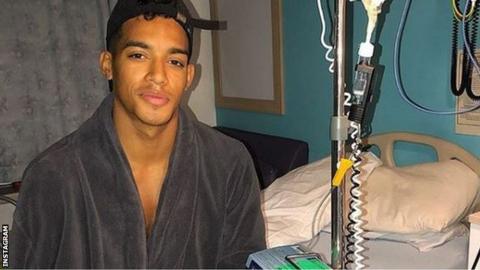 Courtney Wildin, a non-league defender and model who has played international football for Antigua and Barbuda, has been diagnosed with leukaemia.
The 22-year-old Coalville Town full-back, who started his career in Aston Villa's academy, is undergoing treatment at Leicester Royal Infirmary.
In a social media post, Wildin said the news came as an "absolute shock".
"I've had an amazing year and this was so far from how I expected it to be ending," he wrote on Instagram.
"Despite the bad news I'm feeling positive about it this all and just know that I'll be back stronger."
Wildin, who has had spells with Sheffield Wednesday, Lincoln City, Boston United and Nuneaton Town, joined Coalville from Nantwich.
"Courtney has been a fantastic player both on and off the field since he joined us and we are all deeply shocked at the news," said Coalville chairman Glyn Rennocks.
"We will support him as best we can and we all wish him a speedy recovery "