Eighty sports coaches convicted of child sex abuse, says Offside Trust
Last updated on .From the section Football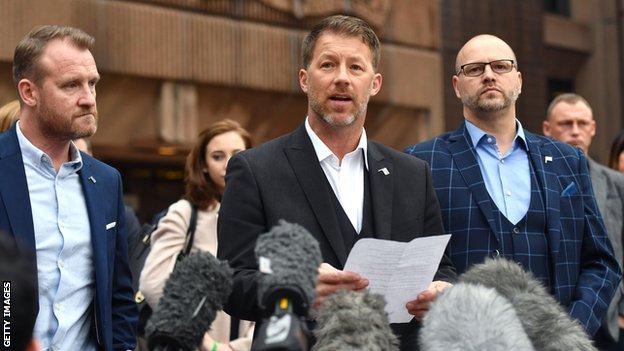 At least 80 sports coaches have been convicted of child sexual abuse in the UK in the two years since the Offside Trust was set up, the body has claimed.
The body was set up 'by survivors for survivors' after child sexual abuse in football was revealed in 2016.
According to Offside Trust research - drawn from media reports - almost half of the cases involved crimes that have been committed since 2006.
More than a third of cases have taken place in the last five years.
The most high-profile case involved former Crewe coach Barry Bennell, who was jailed for 31 years at Liverpool Crown Court for 50 counts of child sexual abuse between 1979 and 1991.
Football Association chairman Greg Clarke called the scandal one of the biggest crises in the history of the governing body.
Former Crewe footballer and director of the Offside Trust Steve Walters, who was abused by Bennell, said: "What these latest figures confirm is that child sexual abuse in sport is not just historic. It is still going on today, particularly at grassroots level and it affects every sport.
"We must be vigilant and make sure that we continue to raise awareness, especially among younger people, as well as supporting survivors to come forward and speak their truth."
The Offside Trust said the research has been drawn from media reports because no official breakdown currently exists.
They claim it does not not necessarily represent the complete picture, with the real figure likely to be much higher.
Walters added: "It's been two years since I spoke out with former team-mates to waive our anonymity.
"In that short time, we have seen several high-profile court cases involving abuse that occurred 20 or 30 years ago and we're particularly proud that our actions have inspired so many others to come forward to seek justice."
Police say they have received more than 2,800 referrals relating to their investigation into historical sex abuse in football - part of a wider investigation called Operation Hydrant.
Those referrals and reports came via police forces and an NSPCC helpline which was set up in November 2016 in response to the allegations made by Walters and others.
Meanwhile, an independent inquiry into historical sex abuse for the FA has been delayed indefinitely because of a pending retrial and further allegations in the Bennell case.