Atlanta United v Portland Timbers: Can Liam Ridgewell equal Beckham's MLS Cup haul?
Last updated on .From the section Football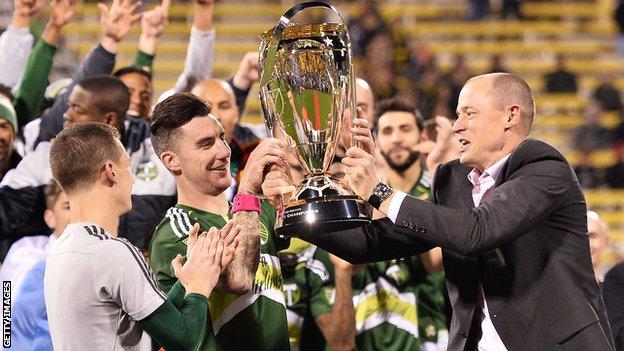 "To win a second MLS Cup and put myself in the same company as David Beckham is extra motivation - if that's the only way to get in his bracket then I will be absolutely buzzing."
You may not associate former Aston Villa, Birmingham City and West Brom defender Liam Ridgewell with ex-England captain Beckham, but victory for the Portland Timbers against Atlanta United in the MLS Cup final on Sunday will see the pair share the same trophy haul in the US.
Ex-Manchester United and Real Madrid midfielder Beckham won back-to-back MLS Cups in 2011 and 2012.
Ridgewell, 34, is hoping to win the MLS for the second time since moving to the Timbers in 2014, after captaining them to their first title in 2015.
"Football can grind at you, things that happen in your career do take their toll," says Ridgewell. "I was losing the love of playing, I wanted that back. I saw an opportunity to come here, revamp my career and enjoy it again - thankfully I was able to do that.
"I was lucky to play in the Premier League which I was honoured to do, but coming here, I have been able to carry on the high level of winning stuff and proved you can fulfil yourself not just by playing in the Premier League. Getting to the final reminds people where I am and what I am doing."
Speaking to BBC Sport, Ridgewell discuses returning to England, the difference between US and UK fans and the tradition of being given a piece of wood by fan favourite Timber Joey.
Ridgewell used to being the underdog
Ridgewell made 257 Premier League appearances across 12 seasons for the three Midlands clubs.
In 2011, he won the League Cup - his only other major trophy - as unfancied Birmingham City shocked Arsenal at Wembley.
"The MLS Cup in 2015 was unbelievable, no-one tipped us to win it," he recalls. "Every year I have been here no one has tipped us, there are teams in the league spending a lot more than we do, with higher profile players.
"When you are at teams in England that are not in the top six or top four, you do wonder when you will win a trophy. The Carling Cup win against Arsenal was the big one, the pinnacle, no one gave us a hope in hell.
"To win the MLS Cup twice and against Atlanta at their home, will be right up there."
Favourites Atlanta, in just their second season in existence, are playing in their first MLS final. They finished second in the eastern conference and scored a league-high 70 goals.
Star player Josef Martinez has scored 34 goals in 38 games and Sunday's final will be played at Atlanta's Mercedes-Benz Stadium with more than 70,000 fans expected.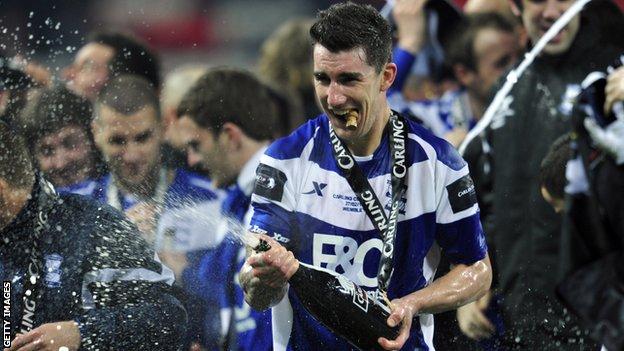 Sharing a beer with Timbers fans
Ridgewell, who captained the Timbers for four seasons, is a firm fan favourite and gets recognised in Portland, though it's a different reception than what he gets 8,000 miles away in Birmingham.
"The city [Portland] loves football, they love the players and the team," says Ridgewell. "I did not expect that coming here. I wasn't sure how they viewed the Premier League, myself and my career, but they always get me to sign stuff. Every year the interest is getting bigger and the fanbase is getting younger.
"They [the fans] will buy you a beer instead of complaining you are having a beer after a game. It's a bit different.
"I have to be careful where I go for a beer [in Birmingham]," he jokes. "It depends if I am going to a Villa pub or Blues pub or in West Brom, but I have done that to myself [having played for all three Midlands rivals]."
He added: "Back home you get the stars and they are idolised a lot more, but here I have been able to experience being a big player in a team. I have enjoyed every minute and embraced it.
"I won't name names, but I have a few mates in football who would love to come out here. People see the transition to the MLS that they didn't see before."
'Timber joey'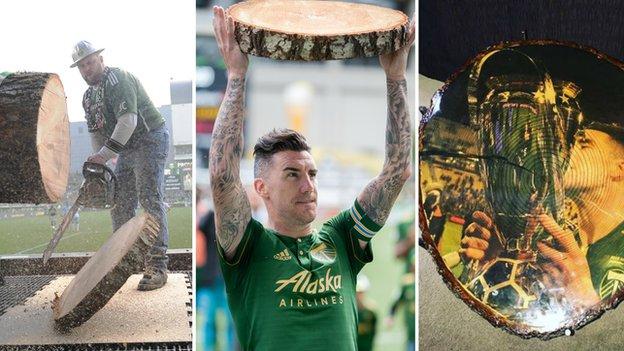 Ridgewell is hoping he can get on the scoresheet on Sunday, scoring past former Villa keeper Brad Guzan and adding another log to his collection.
Timbers players who score a goal are given a slab of wood, cut fresh off the 'victory log' by their chainsaw-wielding mascot Timber Joey.
The Timbers have driven the log more than 2,500 miles across the US for the final.
"It is always good to put one past Brad," says Ridgewell, who has scored seven times for the Timbers. "I have not scored this season so why not in the final?
"It would be difficult bringing the wood back in my suitcase, maybe I will ask Timber Joey to cut me off a thin one.
"Mine are all in the dressing room - my dad wanted me to bring one back to the UK, but I already have my golf clubs in my oversized luggage. One of the logs was made into a table which has been on my decking for the past three years."
What would make a better Christmas present, though? Another medal or a fresh 'victory log'? Both!