Scotland 'don't fear anybody' in World Cup draw, says Fiona Brown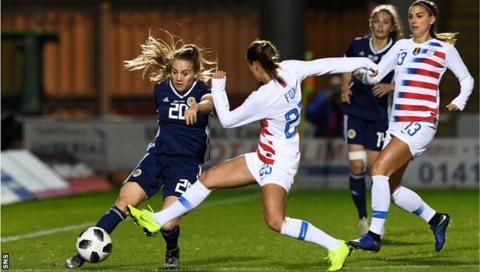 Scotland "do not fear anyone" in Saturday's Women's World Cup draw in Paris, says winger Fiona Brown.
It is the first time the Scots have reached the finals of the tournament, having made their European Championship debut last year.
But FC Rosengard's Brown believes Scotland can take on even the best in France next summer.
"As a squad we want to challenge ourselves," Brown, 23, said.
"We've now qualified for the biggest tournament in the world, then played the world champions and gave a really good account of ourselves."
Scotland won seven of their eight qualifiers and have since taken on the United States in a friendly, losing 1-0.
"By ranking there's nobody better so it was the best possible way to [test yourself]," Brown explained.
"If we can go and really compete, defend well and create chances against them, we can do it against anyone. We don't want to specifically avoid any team now."
For Brown the achievement of qualifying for the World Cup took a while to sink in, as she immediately returned to Sweden.
"We all qualified then went back to our clubs. It's been go, go, go since then so it's really only now we're realising it's actually happening. It's so nice to be part of that now instead of being told 'unlucky'," she said of her Swedish team-mates, who will also feature in next year's finals.
Brown has another important engagement back home in Scotland on Saturday - her brother's wedding - and her father will have his phone at the ready come 17:00 GMT when the World Cup draw takes place.
"I couldn't miss it," she added. "And obviously my family are fully behind it and want to know just as much as me. I'll be having a good time anyway."