Manchester United: Is Jose Mourinho getting a fair deal?
Last updated on .From the section Man Utd510
There was a depressingly familiar feeling around Manchester United last week.
Anticipation gave way to frustration as Jose Mourinho's side stumbled their way to a 1-0 victory over Young Boys in the Champions League, a win only achieved thanks to Marouane Fellaini's 91st-minute strike.
In the TV studio afterwards, condemnation from former United midfielder Paul Scholes was swift.
"Awful," he said.
Half an hour later, Mourinho responded. He told his "lovers" the result - and United's subsequent qualification for the last 16 - had maintained his 100% record of getting out of the group stage, a run that stretches across 14 seasons and includes spells with Porto, Chelsea, Inter Milan, Real Madrid and United.
Since United last reached the final in 2011, this is only the fourth time they have reached the knockout stage. Mourinho has been responsible for two of those.
So, is he getting a fair deal or is he being treated too harshly?
Why the negativity?
United ended the weekend seventh in the Premier League. It is their lowest position after 14 games since 2013-14, when they were eighth under David Moyes.
They were beaten at home in the Carabao Cup by Championship side Derby but have reached the last 16 of the Champions League with a game to spare for the second successive season.
Everyone at the club, including Mourinho, accepts the overall record has to improve.
However, there is frustration among some Old Trafford insiders who believe Mourinho is held to different standards, being compared both to his predecessors at United and rival managers at other clubs.
It does not help that the judgement is even more pronounced since it is being delivered by some of the club's illustrious former players.
In addition to Gary Neville's prominent position on Sky Sports, his fellow 'Class of '92' members Ryan Giggs and Phil Neville are occasionally employed as pundits when their managerial commitments allow.
Scholes, meanwhile, is a regular on BT Sport; for the Young Boys game, he was joined by former United team-mates Rio Ferdinand and Owen Hargreaves.
People at United accept these ex-players are employed to give an opinion and should not be biased in their views.
But they question why incidents involving Mourinho - against Young Boys, it was his reaction to striker Marcus Rashford missing an early chance, then smashing a crate of water bottles into the ground to celebrate the winning goal - are viewed so negatively when others behave in a similar manner with barely any mention.
'I don't like the reaction'
Not all of the analysis from former United players is negative, but three days after the Young Boys game, Scholes was still complaining about Mourinho's response to Rashford's miss - the Portuguese turning around to the dugout with a frown on his face, folding his arms and shaking his head.
England striker Rashford, 21, has scored only once for United since 29 September.
Scholes told BBC Radio 5 live: "I didn't like that reaction. I don't think it is great for the player. He is a young lad who is struggling for confidence and there are millions watching on TV. I don't see how that benefits him."
Mourinho knows criticism comes with the territory of being a high-profile manager, even if he is dismissive of the views of the "Einsteins", as he describes them.
His problem, as predecessor Louis van Gaal found out, is the opinions of legendary figures at Old Trafford carry weight far beyond those of a normal pundit.
Only Giggs and Sir Bobby Charlton have played more games for United than Scholes' 718. Gary Neville (602) is fifth on the club's all-time list. Ferdinand (455) is 19th. Scholes won 11 Premier League titles, Neville nine and Ferdinand six.
They are remnants of an era when, from 1992 to 2013, United won 13 Premier League titles under Sir Alex Ferguson and never finished outside the top three.
Within hours of Scholes' initial comments about Mourinho's reaction to the Rashford miss, clips circulated on social media of Ferguson getting annoyed when Cristiano Ronaldo spurned a similar opportunity against Wigan in 2009.
There is no record of any criticism of the then United boss, and many on social media said Ronaldo, who was 24 and World Player of the Year at the time, was more able to cope with the reaction than Rashford.
Neither was there any significant analysis of Ferguson in 2011 when the Scot said Scholes had "red-mist moments" as he reflected on the red card the midfielder had been shown during the FA Cup semi-final defeat by Manchester City.
The comparison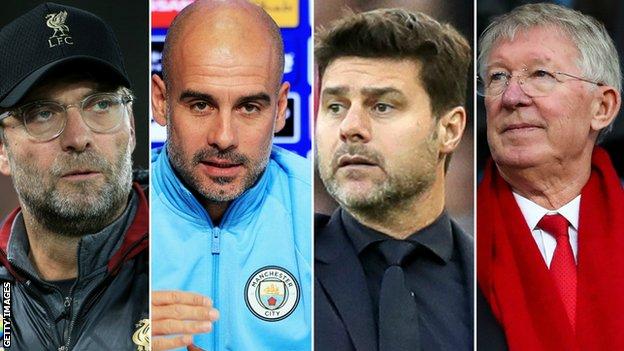 United have spent more than £650m on new players since Ferguson's departure in 2013.
This season, as with the others since the Scot left, they are not going to mount a sustained title challenge.
Without a significant change in fortune, they will finish outside the top four for the fourth time in six seasons. Over the same period of time, Arsenal, Tottenham, Liverpool and Chelsea have all missed out twice, though one of those clubs at least will fail to make it this season as well.
During Mourinho's two full seasons in charge, United have won two trophies of significance - the Europa League and EFL Cup, both in 2017. Manchester City and Chelsea have also won two in the same period - including the league title - and Arsenal one.
Liverpool and Tottenham have both failed to win a trophy in that period, yet the belief at Old Trafford is Jurgen Klopp and Mauricio Pochettino avoid the kind of intense criticism Mourinho has, and continues to receive.
Speaking last Friday, Mourinho said: "Manchester United is the only club where every day there are rumours that the manager has problems with the players.
"Here, the player cannot have a free life, a free development with ups and downs. The manager cannot choose. The manager cannot coach. The manager cannot speak about the player. It's the only club.
"There is always a rumour. There is always a problem. The player didn't behave. Disciplinary problem. Problem with the manager. The manager had a fight with the player. Only here.
"In Chelsea, when Willian doesn't play, there is no problem with Willian and [Maurizio] Sarri. At Manchester City, when Gabriel Jesus is not playing for weeks, there is never a problem. It is just a normal decision. When Fabinho and Keita don't play at Liverpool, they love Jurgen, Jurgen loves them and there is no problem."
Speaking on Tuesday, Mourinho took it a stage further, saying anyone who accuses his players of underperforming because of differences with the manager is also alleging them to be "dishonest".
He said: "A football player is paid - and very well paid - to be a football professional. What is that? It is to train every day in his limits, to play every game in his limits, is to behave socially according to the nature of his job, is to respect the millions of fans around the world and to respect the hierarchies in the club.
"If you say that a player plays well or bad because of who the manager is, you are calling the player dishonest.
"You believe a player scores in his own goal and then runs and celebrates 'I scored in my own goal because I don't like the manager'? Do you believe in that? I don't believe in that."
'Deal with it'
In the final months of his time in charge of United, Van Gaal said Scholes should be "more positive" because his opinions were creating a "negative atmosphere" around the club.
That has not been easy given results since 2013 - the club's new "football heritage", as Mourinho describes it.
Mourinho may wish to be judged on the same terms as Liverpool, who have not won the title since 1990, or Tottenham, who have not won it since 1961, but when United champion themselves in official press releases as one of biggest clubs in the world, is this realistic?
His comparatively aggressive public demeanour is at odds with that of Klopp and Pochettino in particular, and the regularity with which he criticises his own players does not help.
However, there is at least one old boy who has sympathy for the position Mourinho finds himself in.
In the aftermath of Saturday's 2-2 draw at Southampton, Phil Neville spoke up for the Portuguese.
He said: "Jose gets a lot of criticism for hanging his players out in public, but you watch [Paul] Pogba today… I'm sorry but if Jose had done an interview after the game and said 'Paul Pogba was fantastic', that's a lie. He wasn't fantastic. He was sloppy and caused United problems.
"In society these days we mollycoddle our players. He didn't play well. Face up to it. Deal with it."