Craig Levein: Hearts boss 'finished' talking to head of referees John Fleming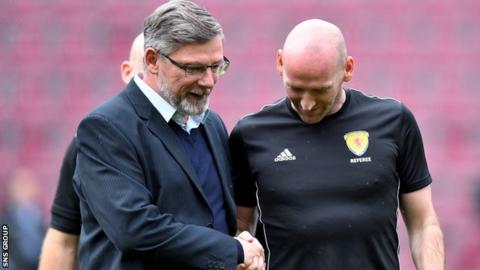 Hearts manager Craig Levein says he is "finished" talking to head of referees John Fleming following his criticism of the officials at Tynecastle on Sunday.
Levein said "it was like playing against 12 men" after a 2-1 defeat by Rangers, upset by the performance of Bobby Madden and his assistants.
"When I start thinking about it, it takes you to places you don't want to go," said Levein.
"All I'm asking for is people to do their jobs properly."
After an offside Alfredo Morelos had touched in the winner from a set piece, Levein explained that Fleming had told him that it makes life easier for assistant referees if defenders hold the 18-yard line when defending free-kicks.
"It has a huge impact on me and my job and my livelihood," said Levein.
"So if someone has made a mistake, especially when we have spoken to the referee supervisor who has told us what to do, we have done it and they still get it wrong.
"When you look at that situation, how is it possible that he can get that wrong? It's a pretty blatant mistake. Especially when the guy in charge of the referees is telling us to hold it on the 18-yard line. We do that. So what do I think?
"We've had another six of those already this season that they've got wrong. This is not the first time. [Assistant coach] Austin [McPhee] has been talking to John Fleming about the situation and they continually get it wrong.
"After that, I'm finished speaking to John. What's the point?"
Levein also said Steve Conroy was "talking rubbish" after the former referee told BBC Scotland that criticism of officials was getting too personal.
"I wasn't talking about Bobby's character," he added. "As a person, he's a great guy. But, for a professional performance, that's completely different. I think I'm entitled to do that."